Mega Steno AS130 Mini Card Reader from Apacer

The company Apacer Technology offers a new compact card reader Mega Steno AS130, which can be easily attached to your mobile phone.
With the AS130 microSD, microSDHC and M2 data can be accessed directly without any adapter. The data transfer rate can reach up to 480Mb/s, allowing you to transfer and switch digital images, music or files on PC or other mobile devices.  The device weighs only 3 grams, made of black plastic and has dimensions 35 x 19 x 7.5 mm, equipped with a USB connector and read formats microSD, microSDHC, M2. The product is compatible with Windows 98/ME/XP/Vista platforms and Mac OS X 10.3.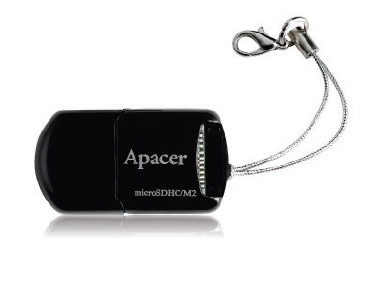 Mega Steno AS130 Features
USB 2.0 High Speed card reader
Slim and compact design
Bundled with cell phone strap
MicroSD/MicroSDHC and M2 socket