Samsung today debuts two especially designed for ladies phones – the Diva (S7070) and the Diva folder (S5150), as the first new models in the 'Samsung Diva Collection 2010.' Starting with this year's collection, Samsung plans to introduce Samsung Diva Collection models annually to satiate the inner needs of women mobile phone users.
"Today's modern women play many roles, from fashionista to heroine. The Samsung Diva Collection delivers mobile phones accentuating all aspects of the stylish, attention-getting woman to let the diva in everyone come to life," said Younghee Lee, Vice President of Mobile Marketing, Samsung Electronics. "The Samsung Diva Collection 2010 is a part of Samsung's long-term goal to meet the unquenched needs of one of our most important target group, women mobile users."
Samsung (S7070) – Designed for the Glowing Diva with Exquisite Taste
Samsung Diva has a touchscreen display, pearly-white embossed quilted back cover, as well as the ergonomically designed diamond-shaped crystal button on the front. Features also include 3.2 megapixel camera featuring 'Beauty Effect' and 'Lomo Effect,' Samsung's TouchWiz 2.0 user interface, pre -installed access to instant messaging as well as acces to social networking sites such as Facebook and MySpace.
Other features designed especially for women include security features such as 'SOS Message' and 'Fake Call' that offer peace of mind in potentially unsafe situations. 'Wish List' helps to organizing your shopping life, while 'Etiquette Mode,' enables users to instantaneously silence their mobile when necessary.
Samsung (S5150) – Designed for the Glam Diva in the Spotlight
The Samsung Diva folder offers a shiny, silver-toned back cover featuring a 3D quilted pattern. A hidden LED screen, called "glittering LED," illuminates to notify an incoming message or a call.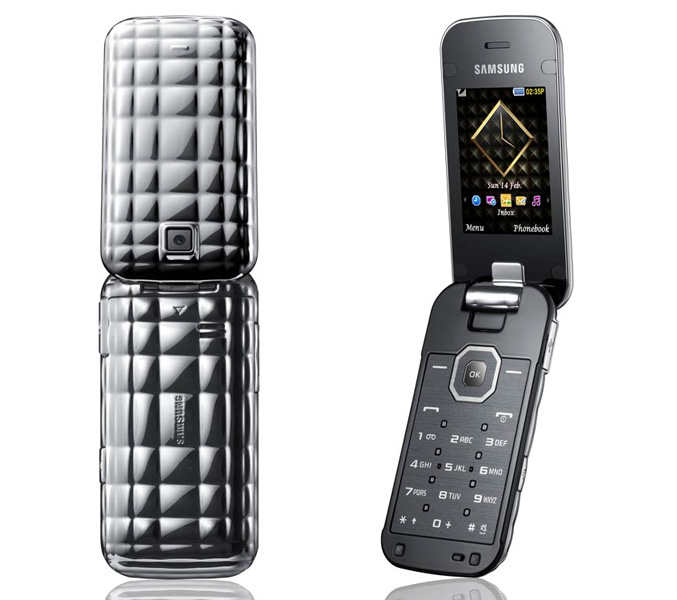 Like Diva, Diva folder also offers various image editing features such as 'Beauty Shot' and 'Lomo Effect,' and built-in security features including 'SOS Message' and 'Fake Call.'
The Samsung Diva Collection 2010 will be launched in January 2010 in the Netherlands, Russia, Ukraine and other European countries, followed by Southeastern Asia and China.
Source: NewsWire