Samsung unveiled a cheap solar powered GSM handset – the E1107  "Crest Solar".
The phone is with standard shape except, that on the back panel has a solar cell, which  can keep its 800mAh battery charged when exposed to the sun.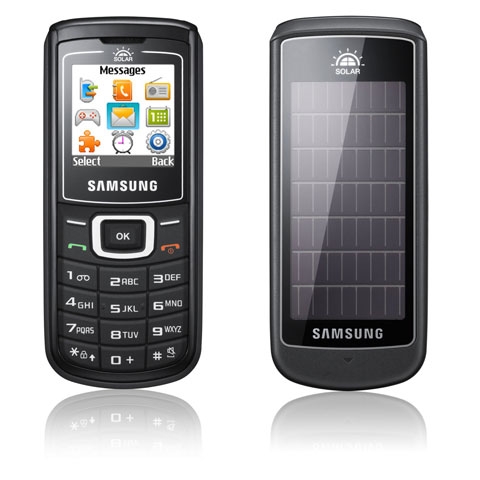 Powered by the Sun
"With an extended solar powered battery, the Samsung Crest Solar solves the problem of unavailable or unstable electrical outlets, particularly in rural areas. The phone has the capacity to provide around 5~10 minutes of talk time with one hour of solar charging.* Moreover, the solar panel charging allows its users to save money and energy consumption on traditional electrical charging.
* Measured when the phone is turned-off under the sun light of 80,000 Lux. Results can be different depending on circumstances."
Technical specification:
• Networking: GSM 900/1800 MHz;
• Display: 1.52-inch CSTN, 128×128 pixels resolution;
• FM radio;
• MP3 Ringtones ;
• Built-in flashlight;
• Function Mobile Tracker;
• Battery: 800 mAh;
• Dimensions: 105.2×44.2×16.4 mm.
The Crest Solar will be available in numerous markets including India, Europe, Southeast Asia, Southwest Asia, and Latin America from June 2009. The price in India will be 59$.