SanDisk Corporation, the inventor and world's largest supplier of flash storage cards, today announced the SanDisk® Service Delivery Card (SDC), a high capacity custom memory solution based on a microSD™ card and designed specifically for the Mobile Network Operator (MNO). The unique capabilities of the SanDisk Service Delivery Card enable MNOs to configure local storage to streamline data delivery, improve high capacity memory performance and integrate with network applications and services to enhance the user experience.

Custom Flash Memory Product Integrates MNO Applications and Services to Increase MNO Service Revenues
This new product family comes with Operator-managed features and options to reserve memory for key applications and services. To address Operators' needs for in-store and out-of-box consumer education, the SanDisk SDC can be pre-loaded with a Service Discovery experience, customized for each MNO, to promote awareness and increase adoption of Operator services.
"We're introducing our first products in a new family of high performance, microSD memory solutions specifically designed to meet the custom needs of MNOs worldwide," said Yoram Cedar, executive vice president and general manager, OEM and Corporate Engineering, SanDisk. "These customized cards highlight applications and services for the MNO and show end users how to get the most out of their mobile experience."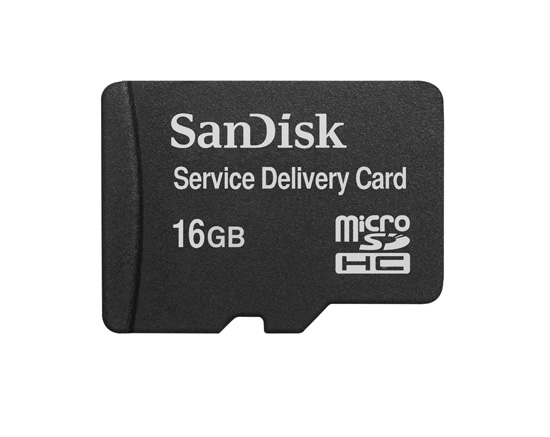 The SanDisk Service Delivery Card provides Operators with the freedom to deliver the latest applications, content and access to services through a physical media channel to the handset. The SDC can be customized to deliver a complete MNO-branded experience that includes unique packaging, accessories and customizable Service Discovery software. SanDisk will also provide services to pre-load data, applications and promotional offers, as well as integrate with existing MNO services.
Sample Benefits of the SDC for MNO:
Custom MNO branded service discovery experience that introduces end users to Operator applications and services that result in increased Service Attach Rates
A physical delivery mechanism to quickly deliver a consistent MNO-branded user experience across a wide range of handsets from multiple vendors
Customized card capabilities for integration with "value added network service offerings"
Intelligent, network-aware memory solution binds data to the network
Launch and install of MNO applications on handsets
Supports Smart Card Web Server and Delivery of Web Applications to Mobile Devices
SanDisk's new family of Service Delivery Cards for MNOs features the latest Smart Card Web Server (SCWS) technology. Service Delivery Cards with the embedded web server provide the necessary high speed interface and storage capacity for web content and services on today's handsets. In addition, powerful search and content management capabilities of the IP-enabled SDC can be utilized by handset manufacturers to speed access to local data.
Cedar continued, "The establishment of global high speed cellular networks has given rise to a new era of mobile computing, featuring access to applications, services and data right from the palm of your hand. The embedded Smart Card Web Server opens a channel to our Service Delivery Cards using industry-standard IP protocols to facilitate Operator delivery of these new services."
As an active member of the SIMalliance, SanDisk recently demonstrated IP-enabled memory technology with the ability to interface with the SIM as a means to accelerate the deployment of popular entertainment, social networking, enterprise and Internet-based services.
The SanDisk Service Delivery Card for MNOs is available in capacities that range from 1-gigabyte 1 (GB) to 16GB. For more information or to view a demonstration of the SDC at Mobile World Congress, stop by the SanDisk booth in Hall 8, Booth #8C 129 or contact Liat Weinblat at Liat.Weinblat@sandisk.com
For more information please visit www.sandisk.com