NEC is getting ready to unveil a new dual screen smartphone at MWC next week. The new device will be the first company dual screen smartphone after the commercial release of a dual screen Android tablet in Japan last year that will soon be launched on a global scale.
So far the only pictures of the new device belong to a web site named GetNews but they don't really tell much as they are in fact pictures of a non-functional prototype that seems to have the Android user interface taped onto a frame.
Still, the pictures reveal an interesting approach – the smartphone is likely to feature touchscreen displays on the front and back panels. So when the customer wants to use the two screens together as one large display for viewing movies, surfing the web, or other activities, he simply has to unfold the tablet.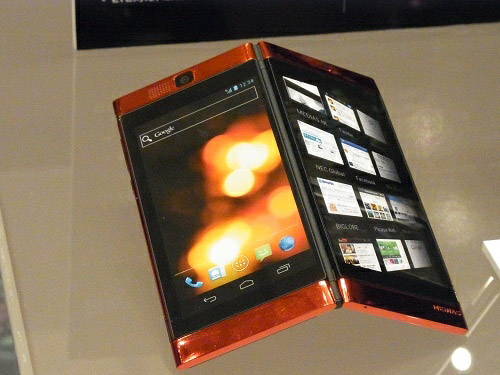 In addition the device will run Android 4.0 and support LTE but other than this not much else is known at the moment.
Source: UK Mobile Review