Nokia has made its Car Mode application ready for download which is great news for all people having cars and using smartphones running Nokia Belle. The Nokia Car Mode is available at Nokia Store and allows users to connect the smartphone to the car's infotainment system – if there's one – and control the phone via the car rather than through the phone keys.
Nokia has provided two versions of the software. The first version is called Nokia Car Mode and offers Nokia's leading turn-by-turn navigation as well as smartphone experience in the car while also bringing voice calls during driving as well as Nokia Drive, Nokia Music and traffic updates.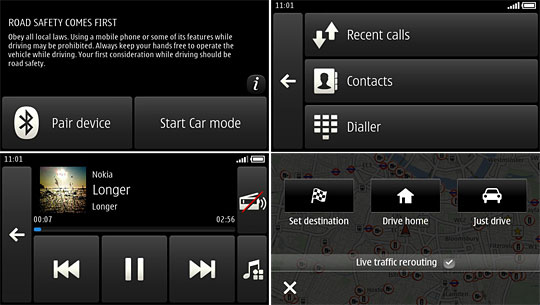 The other version is called Nokia Car Mode with MirrorLink that provides, as expected, MirrorLink support and seamless connectivity of the smartphone within the car. This version however comes at a cost of about 20 EUR.
As of now only Nokia Belle smartphones are supported. The Nokia N9 will join the pack some time later.
Source: Nokia