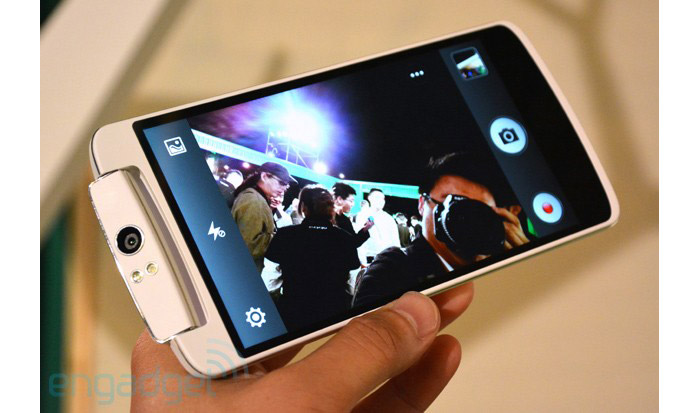 The Chinese company Oppo has finally introduced the highly expected N1 smartphone at an event held in Beijing, China. The smartphone measures 170.7 x 82.6 x 9 mm and weighs 213 grams. Currently the N1 is available in white only but a black model may appear a bit later.
The Oppo N1 is based on a quad-core Snapdragon 600 processor at 1.7 GHz with built-in Adreno 320 graphics. The device also has a large 5.9-inch display that works at Full HD resolution (1920 x 1080 pixels, 377 ppi), 2 GB of RAM, 16 GB or 32 GB of internal memory, a microSD card slot, 802.11n Wi-Fi, Bluetooth 4.0, NFC, GPS and a bunch of sensors. On the back the smartphone also has a 13 MP camera with N-Lens technology, an Exmor sensor and Owl stabilization system. Just below the camera users will find the 120-mm O-Touch sensor area that will allow them to command the smartphone in many ways. A 3610 mAh battery finishes the hardware specs list.
As expected the Oppo N1 will reside in a white square case that will provide protection and more style to the smartphone. As to pricing the N1 will sell for USD 650 when it becomes commercially available in December 2013.
(picture courtesy of Engadget)
Source: Oppo