Samsung Electronics Co. Ltd., a leading mobile phone provider, today introduced the AMOLED Beam (SPH-W9600) to the Korean market. The successor to the Samsung Haptic Beam (SPH-W7900), the world's first full-touch beam projector phone, the AMOLED Beam delivers an enhanced viewing experience and richer image projection.
Moving the mobile phone experience from personal use to social engagement, the AMOLED Beam allows users to project and share multi-media entertainment, games, video and pictures captured on the 5.0 megapixel camera. Business users can use the AMOLED Beam to swiftly and simply deliver professional presentations wherever and whenever required.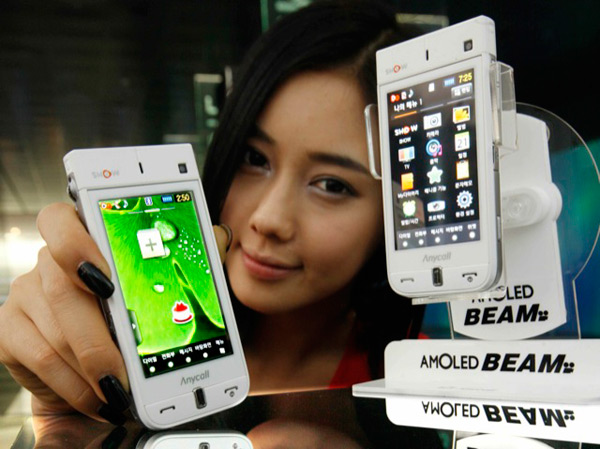 The AMOLED Beam provides an exciting mobile experience by projecting any content to a maximum screen size of 50 inches. The phone also boasts a display 1.5 times brighter than that of previous model, the Haptic Beam. Featuring a lightweight and compact design, the AMOLED Beam offers optimized features such as Microsoft Office and DivX codec support for convenient use, 3.3" WVGA display, 5 megapixel camera, and Terrestrial DMB.
AMOLED Beam (SPH-W9600) Product Specifications
Network:
Display:
3.3" WVGA AMOLED (800×480)
Camera / Video:
5.0 megapixel Camera + VGA Video Telephony Camera
Audio:
Value-added Features:
WVGA Projector (9 Lumen @ 1W)
Connectivity:
Memory:
8GB + 3GB, external memory slot (Up to 16GB)
Size:
Battery:
Source: Samsung