Toshiba today launched a new 8.08 megapixels CMOS image sensor with back­side illu­mi­na­tion (BSI) tech­nol­ogy, which is claimed to offer the industry's smallest level pixel size with enhanced sensitivity and improved imaging performance.
The new 1/4-inch image sen­sor has a pixel pitch of 1.12µm and can cap­ture 1080/60p. Toshiba explains that BSI sensors deploy lenses on the rear of the sensor, on its silicon substrate, not on the front, where wiring limits light absorption, and this positioning boosts light sensitivity and absorption, and allows formation of finer image pixels in smaller CMOS image sensors.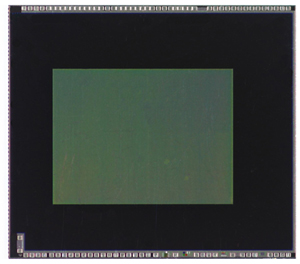 The new sensor is developed to be used in smartphones, tablets and in portable digital cameras. First samples of the new sensor will be ready at the end of this month and mass production will follow from the end of 2011.
Source: Toshiba