The Logitech Wireless Gaming Headset G930 is one of the latest products from Logitech's high-end range of gaming accessories. It looks identical to the wired Logitech Gaming Headset G35, which was introduced last year with features like the Dolby Headphone 7.1 technology.
One of the additions on the Logitech G930 Headset is the ability to use it as a wireless headset, and as a wired headset. The glossy plastic and stylish design of the headset shows that it is developed specially for gamers of the highest "rank". Speaker cups are attached on the end of the metal slides, and can be tilted in thirty degrees and also turned ninety degrees in-ward, providing great comfort. The left speaker cup of Logitech's headset has a small microphone attached.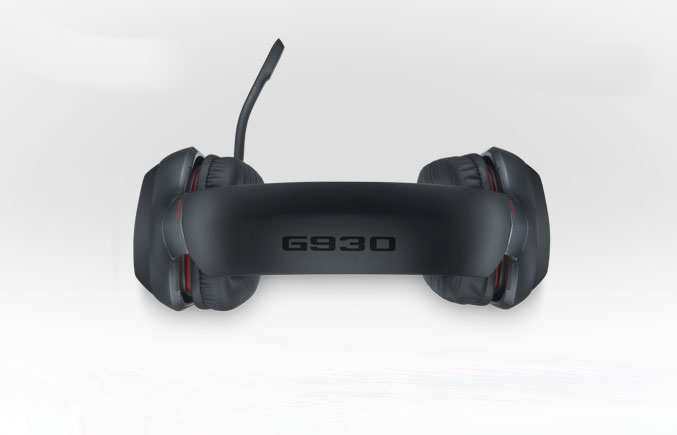 The Microphone can swivel, providing perfect placement on an acceptable distance from the mouth. Thanks to the flexible design of the G930, you won't be able to even feel like there is something on the top of your head. The expandable metal slides of the headset can be adjusted a lot, which means that people with slightly bigger heads will be able to adjust the speaker cups perfectly for their comfort.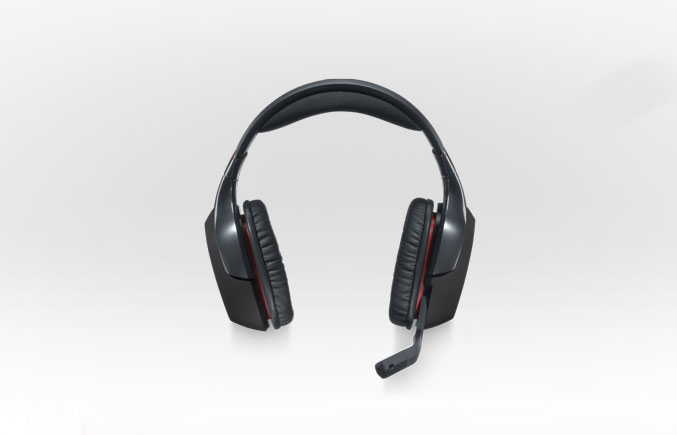 The left headphone of the G930 Headset features three macro buttons marked G1, G2 and G3. Each of them can be programmed with a specified by the user macro command. A sound-mute button and a volume adjustment button are also featured on the left headphone, under the programmable macro buttons. On the very bottom lies a micro USB port that is used to charge the headset.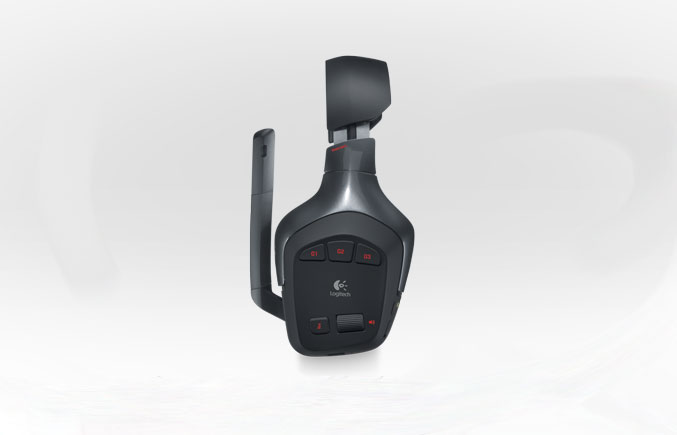 When used as a wireless headset, the G930 can produce sound in a range of nearly forty feet, while using a 2.4GHz wireless connectivity. Compared to the G35, the G930 now uses Dolby Pro Logic II 7.1 Surround Sound technology which produces amazing uncompressed 48 kHz audio quality. With a 75 to 100 kHz frequency, the microphone that is attached on the left speaker of the headset features a noise-cancelling technology which works perfectly if you have a loud fan or if you are just in a noisy environment. People will be able to hear you clear enough.
The G930 Headset by Logitech is able to provide up to ten hours of battery life with every charge. Retail package comes equipped with a USB Dongle, a USB-Charger with Software and Driver Compact Disk, and of course, a device manual, for the price of $160.
Overall, the G930 Wireless Gaming Headset by Logitech has an amazing design and built quality and does exactly what it was made for. The 160 dollar price tag must look a little pricy, but it is one hundred percent sure that you will get what you have paid for, and even more. The battery life could be better, but the performance and quality of this headset is way beyond the quality of others that are cheaper, or near the same price range.
Engadget gives this device nine out of ten  (9/10)
DigitalChumps gives this device nine out of ten  (9/10)
i4u gives this device nine out of ten  (9/10)
DesktopReview gives this device four and a half out of five  (4.5/5)
TestFreaks gives this device nine out of ten (9/10)
HiTechReview scores eight out of ten  (9/10)
Overall Score nine out of ten (9/10)