The new stylish LaCie's burner is designed by Sam Hecht and is USB powered, so you don't need a power...
The latest propose from LaCie for home storage solution is called LaCie Network Space MAX, design by Neil Poulton, it...
LaCie today unveiled LaCinema Mini HD, the all-in-one WiFi High Definition media center. Its amazingly small and stylish design packs...
Well known company LaCie, together with Porsche Design has introduced two new stylish external hard drives which offers USB 3.0...
LaCie introduced the most compact 2.5″ hard drive on the market – LaCie Rikiki, in metal. Measuring just a mere...
LaCie announced three new ways to carry digital content – LaCie itsaKey, iamaKey and PassKey USB key drives, design by...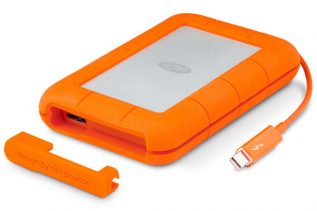 The premium brand of Seagate Technology, LaCie, has presented a new 1 TB model of its Rugged Thunderbolt solid-state drive...