ASUS today made available the world's first Skype Certified™ videophone dedicated to unlimited video calling over the Internet – the AiGuru SV1, part of the Eee Videophone product family.
Boasting a large 7" display and a built-in webcam, speaker and microphone, the WiFi-capable videophone lets users make unlimited video calls for free to other Skype users without the need for a computer. The Eee Videophone AiGuru SV1, priced at $299.95, is now available in North America from Skype's online shop (www.skype.com/shop), and will be available from ASUS authorized resellers later this year. Consumers in Europe can pre-order the videophone from Skype's shop, priced at €269.95/£219.95, with shipment beginning next week. The videophone will also be available in retail outlets in Asia Pacific later this year.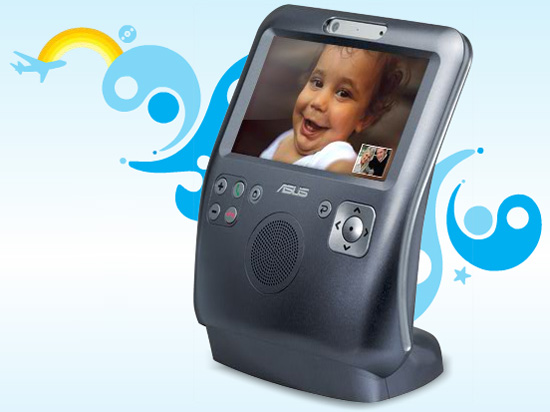 Its simple-to-use, icon-based interface and intuitive button layout take the complexity out of Internet calling – making it easy for anyone to make and receive Skype-to-Skype video and voice calls. Users can even join voice conferences, making the AiGuru SV1 an inexpensive, all-in-one voice and video conferencing solution for small businesses. Furthermore, the AiGuru SV1 also allows users to make and receive calls to and from fixed and mobile lines at really cheap rates.
"The AiGuru SV1 is Skype's first foray with a partner into the videophone category," said Manrique Brenes, Skype's director of business development and product management for consumer electronics. "With more than 25% of Skype-to-Skype calls including video, we know that video calling is an easy, accessible and relevant way for people to communicate. The videophone offers the benefits of video calling to a much wider audience, allowing friends and families to share their worlds face-to-face without being tied to a computer."
Free Calls Whenever, Wherever and Forever
With the AiGuru SV1, free unlimited video and voice calls can be made to anyone on Skype. Whether it's a father, child, or business colleague receiving a video or voice call, they do not have to be using a videophone; as long as they are connected to Skype – via a computer or a Skype-enabled device – the call will always be free. This enables people worldwide to make Skype-to-Skype calls either at home or the office whenever the need or mood strikes, without having to worry about cost. AiGuru SV1 users looking to make outgoing and receive incoming calls to and from fixed and mobile lines can subscribe to one of Skype's popular unlimited calling* subscriptions or purchase Skype credit to make outgoing calls at www.skype.com
Great Video and Voice Communications Experience
The AiGuru SV1 is designed specifically for video calling and is equipped with a large, high-resolution 7" TFT LCD and an integrated webcam, for the best video calling quality. The AiGuru SV1 also features a built-in microphone and speaker supporting exceptional sound quality. Users who wish to have privacy during their calls can use a standard mini-jack headset and microphone.
Easy to Set Up and Easy to Use
The AiGuru SV1 offers the quickest and easiest way to make free video calls – at no point is a computer or additional software required. Users can get up and running in three simple steps:
Connect to a broadband connection, either wirelessly or via an Ethernet cable
Sign-in with an existing Skype name or create a new one
Start video calling
The videophone is as easy to use as it is to set up. Its icon-driven user interface and clean, clearly labeled button layout are designed to be immediately intuitive to users.
With its WiFi capability, small footprint and rechargeable battery power system, the AiGuru SV1 also offers convenience in its portability. The user is neither tied to a wall socket nor a computer during use, which means the videophone can be moved from room to room without hassle, and without interrupting or dropping a call.
Specification:






*Unlimited calling: All calls are subject to Skype's fair usage policy which is set at 10,000 minutes per month (which equates to more than 5 hours of calling per day). Unlimited calls to landlines in up to 36 countries worldwide are included. Calls to premium, non-geographic and other special numbers are excluded.