Onkyo has announced  the launch of three truly awe-inspiring THX Ultra2 Plus-certified 9.2-channel Network AV Receivers- the TX-SN5007 –  flagship model, TX-NR3007  and TX-NR1007.
THe flagship model the TX-NR5007 is THX Ultra2 Plus-certified and equipped with eight HDMI inputs (there are two outputs) ,analogue/digital audio inputs present too as well as component video/s-video inputs outputs for previous generation 'legacy' equipment). Whatever your entertainment source – DVD, HD STB, Freeview, PC/Mac – the TX-NR5007 will handle it…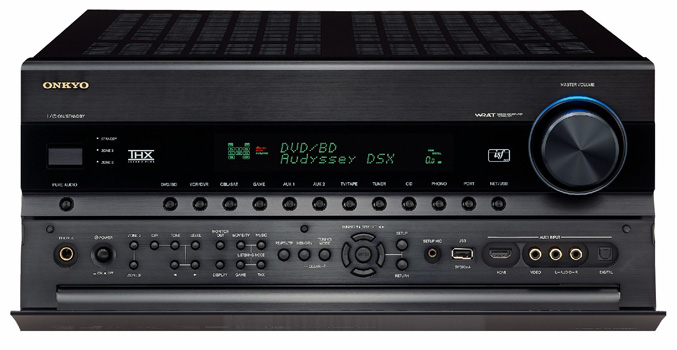 Audio networking is a key feature of the TX-NR5007 in the form of a DLNA (Digital Living Network Alliance) 1.5/Windows 7-compatible Network Capability that allows it to both replay streaming audio files and access popular Internet Radio services such as LastFM/vTuner (subject to availability). MP3, FLAC, Ogg Vorbis, AAC, LPCM, WAV, WMA and WMA Lossless files are all handled with ease. The other big bonus networking gives is that the TX-NR5007's firmware can be conveniently updated (if and when necessary) over the Internet, saving both time, expense and effort.
TX-NR5007 is deal with absolutely every format that currently exists: DTS-HD Master Audio, DTS-HD High Resolution Audio, Dolby TrueHD and Dolby Digital Plus. Audiophiles who favour SACD should also be pleased to hear that this receiver has a DSD Direct facility, designed to extract the very best from the format, a feature rarely found on home cinema receivers.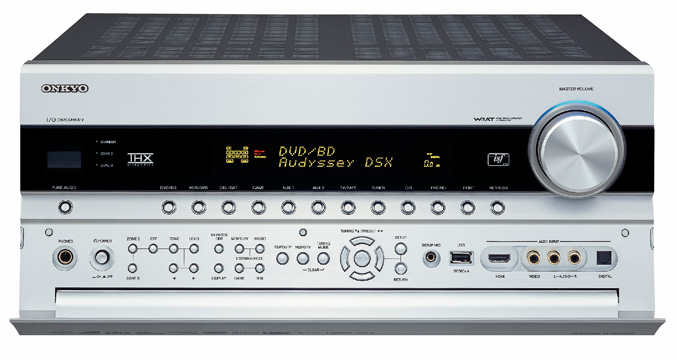 Inside the body there is the latest state-of-the-art technologies including specially selected Burr-Brown PCM1795 192kHz/32-bit DACs (digital to analogue converters) for all channels. The DACs offering a tremendously dynamic performance and a high inherent resistance to clock jitter. If that wasn't enough Onkyo's engineers have implemented ultra-low jitter PLL (Phase Locked Loop) circuitry to reduce overall jitter levels even further.
"As well as those top-flight DACs Onkyo has fitted three highly-specced TI 'Aureus' DSP chips (1 x DA830, 2 x DA788) to ensure that the receiver has the processing power to handle the multiple demands of high definition audio decoding, not to mention audio networking.
As well as transmitting high quality audio from your iPod/iPhone to your speakers the UP-A1 also permits the streaming of HD video from the device to your screen, all routed via the TX-NR5007 and delivered via HDMI at 1080p video resolution. And there's no need to squint at the iPod/iPhone's screen when selecting content either… the UP-A1 has a built-in OSD facility that allows you to stay seated and navigate/select content on your device via your TV screen.
In acknowledgement of the huge importance of gaming in the modern age this receiver features four new Games DSP Modes, allowing audio reproduction to be specifically tailored when you're playing Sports, Action, RPG (Role Playing Game) or Rock-type games (that's 'Rock' as in Guitar Hero!). Gamers are constantly looking for an edge and accurate sound effects can prove a real advantage."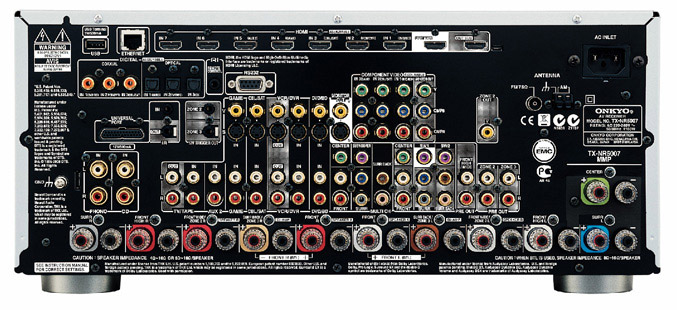 KEY FEATURES – TX-NR5007
THX Ultra2 Plus-certified performance… the ultimate home cinema benchmark
Eight HDMI inputs (including one front-mounted)/Two outputs
DLNA 1.5 and Windows 7-compatible Networking Capability for Streaming Audio and Internet Radio Connectivity for LastFM/vRadio
Audyssey DSX and Dolby Pro Logic IIz decoding
1080p video upscaling via HQV Reon VX video processor
220w per channel
Bi-amping and BTL (Bridged Transless) capability
ISF Video calibration
Jitter Control Technology for cleaner sounding audio
4 x dedicated DSP modes for Gamers
Triple transformer layout for main power (toroidal), audio and video
3-Stage Inverted Darlington circuitry for high efficiency and low distortion
6 x Ultra-low jitter Burr-Brown 192kHz/32-bit DACs (PCM1795)
32-bit Texas Instruments 'Aureus' DSP chips (1 x DA830, 2 x DA788)
4 optical/3 coaxial inputs
U.Port for one-cable connection to optional iPod dock/DAB+ modules
Front/rear USB ports (usable for Firmware Updates)
Pre-programmed bi-directional backlit remote with macro capability
Firmware updatable over the internet
KEY FEATURES – TX-NR3007
As per TX-NR5007 but…
Seven HDMI inputs (including one front-mounted input)/Two outputs
200w per channel
Triple transformer layout for main power (non-toroidal), audio and video
Three audio inputs (four on the TX-NR5007)
If you don't need quite as much power as the TX-NR5007 wields then the TX-NR-3007 offers an excellent alternative. You get 7 HDMIs instead of 8 plus a single USB versus two (and one less AV input – but its feature set is otherwise very similar.
KEY FEATURES – TX-NR1007
As per TX-NR3007 but…
Six HDMI inputs (including one front-mounted input)/Two outputs
180w per channel
1080p video upscaling via Faroudja DCDi video processor
No USB ports
Two audio inputs (three on TX-NR3007)
Single transformer
"The 'baby' of this trio (still quite a big kid at 23.5kg!) the TX-NR1007 offers much of the magic of its two higher end companions but makes do with one less HDMI input, a few watts less power (there's a single main transformer instead of three) and no USB ports. Video processing is assigned to a Faroudja DCDi Cinema chipset instead of the HQV Reon-VX found in the higher-level models."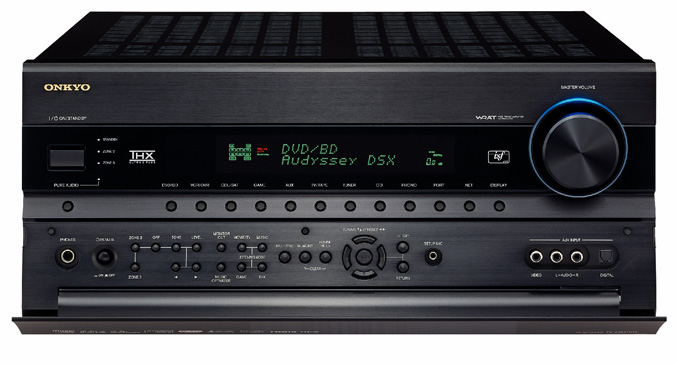 All you need do is to decide which one best suits your needs…
Source: Onkyo