JVC's "Marshmallow" In-Ear Headphones for iPod / iPhone / iPad with remote & microphone.

JVC extends its Marshmallow line with the new HA-FR50 in-ear headphones, designed for use with Apple's iPod, iPhone and iPad,  and comes with built-in remote control and microphone.
The new JVC HA-FR50 Marshmallow inner ear headphones wear "Made for iPod, iPhone and iPad" status, have a 0.33-inch (8.5mm) neodymium drivers and come with two sizes of earpieces made from new, softer memory foam designed for more comfortable wear and secure fit, as well for better isolation from outside sounds while also minimizing sound leakage. They also have a remote that controls a variety of functions on the latest Apple portable devices such as play, skip, controls volume and allows the user to make phone calls or take voice memos. The HA-FR50 are packed with a 3.94-foot (1.2m) color cord and a gold-plated iPhone-compatible slim plug and are offered in four colors for $39.95.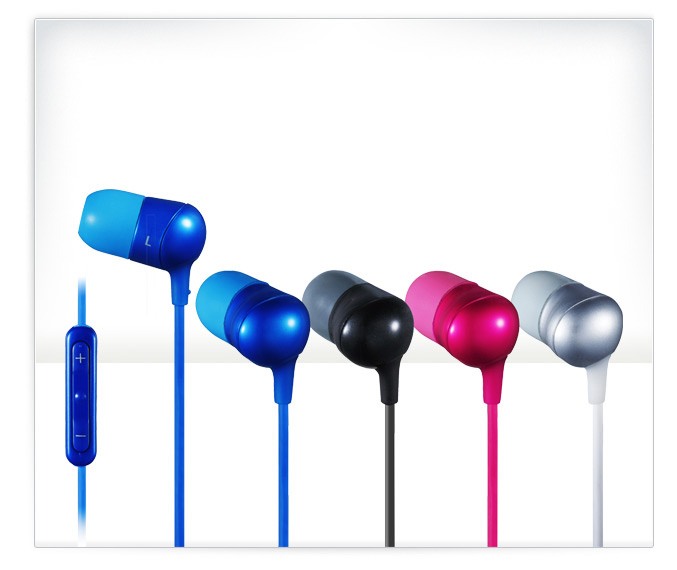 Specification
iPod / iPhone / iPad remote control & mic available – Play, stop, skip +/-, Search +/-, volume +/-, call, voice memo
Color coordination with iPod nano 5G (4 colors)
Comfortable and secure-fit in ear canal headphones with softer memory foam earpieces and just-fit body
Better isolation from background sound with two sizes of memory foam earpiece
Powerful 8.5mm Neodymium driver unit
1.2m color cord with gold-plated iPhone®-compatible slim plug