Monster announced the launch of its brand new line of headphones and speakers family under the sub-brand "Clarity HD". The lineup is debuting with two ultra-compact Clarity HD Precision Micro Bluetooth Speaker, HD Loudspeaker System and iPod Dock and Clarity HD In-Ear Headphones. All four new Clarity HD products are scheduled for delivery in September 2010.
The first two of Clarity HD products -Precision Micro Bluetooth Speaker and iClarity HD Precision Micro Bluetooth Speakers are designed for anyone who wants to significantly enhance the quality of their music playback, as well as the on-the-go capabilities of their iPhones, Blackberries and other devices. The ultra-compact listening solutions, have dual 35 mm full-range driver and passive radiator subwoofer and promised "crystal clear Bluetooth 2.0 audio, which combines with advanced Monster audio and digital signal processing for clean, best-in-class wireless stereo sound". They also have a built-in microphones,  allowing you hands-free dialing and have a Lithium Ion batteries, which  provide up to 5 hours listening on a single charge. From Monster claims that they are  "ideal for instant conference calls, voice/video chats on Skype, or hands-free calls", thanks to the built-in noise-canceling microphone.
They can be connected via standard 3.5 mm headphone port, for products that do not have Bluetooth support and also support wireless music streamingt hanks to Advanced Audio Distribution Profile (A2DP).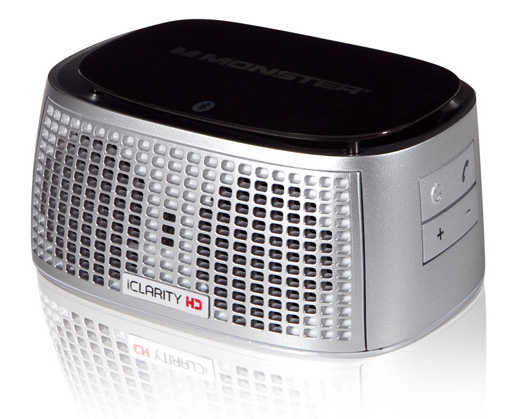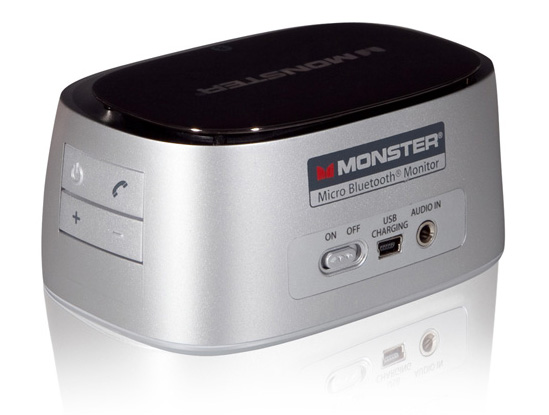 Both Precision Micro Bluetooth Speaker have SRP of  $119.95.
The next Clarity HD Executive Series and accompanying iPod dock is powered by a built-in 75 watt-per-channel amplifier, each loudspeaker (12″x6″x6″, HxWxD) features a high-performance 5.25-inch polypropylene woofer and 1-inch silk dome tweeter, and the low-resonance cabinets and advanced Bi-Amp design for "effortless reproduction of the most demanding music genres". The included Executive Series iPod dock features a built-in master volume control, as well as a full-function infrared remote control,  the dock also includes an auxiliary audio input that allows playback from other digital audio devices.  The Executive Series High-Definition Loudspeaker System and iPod Dock will coast $449.95.
The last Clarity HD Modular In-Ear Headphones are available in both black/red and chrome/red versions, with a high-quality finish and solid-metal construction and thanks to Monster's advanced audio and design engineering, they are specially tuned to literally allow users to ""hear everything" in their favorite music, from the attack of the strings, horns and percussion instruments, to the emotion in the vocals, deep, powerful bass and crystal clear high frequencies." The new headphones come with Monster's new SuperHooks for active music lovers and also includes 10 pairs of Monster's acclaimed SuperTip eartips in the composite foam version, the unique sound-isolating listening solution first introduced with the company's acclaimed Turbine Pro In-Ear Speakers.
Monster Clarity HD In-Ear Headphones feature the company's ControlTalk, which have an integratedmicrophone and answer button and allows users to access their music and answer phone calls without having to reach into their pocketbook, backpack or pocket. The price for Clarity HD In-Ear Headphones is $199.95.
Head Monster Noel Lee noted: "One of the main goals of our new Clarity HD product family is to literally open people's ears to the possibility of truly great sounding music from some unexpected sources. That's exactly how most people feel, for instance, when they hear our wireless Bluetooth speakers for the first time – it just doesn't seem possible that such powerful sounding music could be emanating from such a tiny source! And with our Clarity HD Executive Series, we're giving people an opportunity to dramatically upgrade to a luxurious high-definition listening experience with a complete powered system that produces better sounding music from digital devices than many people may have believed possible."