MSI, the worldwide high-end graphics card and professional motherboard brand-manufacturer, today proudly announced a new series of audio products – Syren series.
As the name, the dreaming sound of Syren can hypnotize every person that she wants to. The person who is hypnotized can't help falling in the dreaming sound, feeling comfortable and satisfied. This is the most important feature of Syren series: "dreaming sound." The latest Syren series products include "SyrenSound X-Fi" high-end sound card, "SyrenPhone Gaming" professional gaming Headphone, and "SyrenSpeaker mini" Mini-Q speaker, targeting the user who seeks for pure and clear sound!
SyrenSound X-Fi" – PCI-e sound card with X-Fi Xtreme Fidelity audio technology
MSI SyrenSound X-Fi sound card is powered by Creative Audio Processor CA0110, optimized for PCI Express to deliver accelerated audio for improved game performance. It supports X-Fi Xtreme Fidelity Audio technology to restore the original sound from the compressed MP3 to provide the more realistic sound and to create the virtual surround sound in games or music. Furthermore, MSI SyrenSound X-Fi is compatible with EAX Advanced HD 4.0 to deliver environmental sound with higher quality and better gaming sound!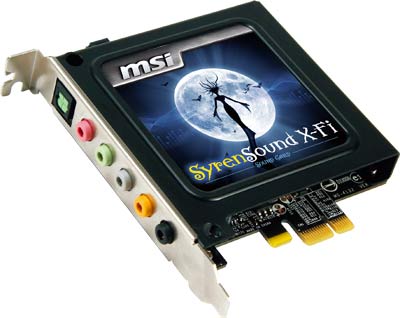 "SyrenPhone Gaming" – USB digital gaming Headphone
MSI SyrenPhone Gaming headphone uses golden-plated USB interface to eliminate noise from the on-board audio and to deliver better and more accurate sound quality. To meet the request of professional gamers to comfort, MSI SyrenPhone Gaming chooses the adjustable head band and soft ear pads to minimize uncomfortable feeling. Besides, MSI SyrenPhone adopts the uni-directional microphone that can do noise reduction up to 100Hhz, providing the best communication quality. More than that, the In-Line volume control function is included so that the user can change the volume directly through the function in games.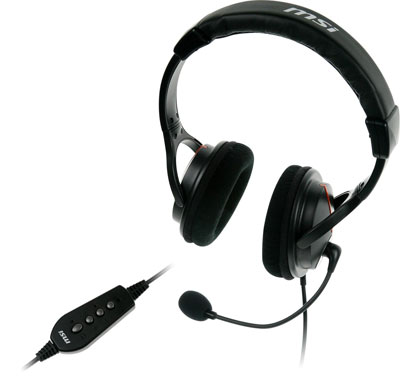 "SyrenSpeaker mini" – Mini-Q USB speaker
MSI SyrenSpeaker mini speaker is a compact size stereo speaker with the futurist design. By using USB interface and digital (class D) amplifier to transmit more pure sound signal, MSI SyrenSpeake mini can deliver the higher Efficiency / Eco and better sound quality compared to the standard speakers, and the user doesn't need to find the power socket to run the speaker, especially for the notebook user who wants to have a nice looking speaker with mini size and good sound quality, MSI SyrenSpeaker mini will be a great choice.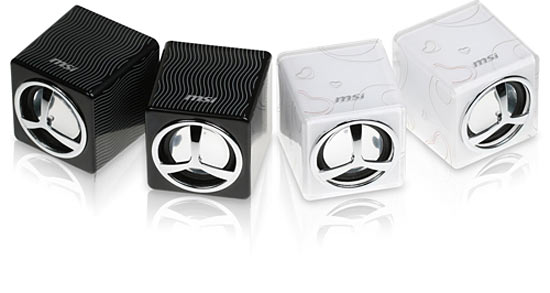 Source: MSI