This wearable rechargeable battery pack is designed for quickly and easily supplying extra power to all of your popular portable electronic devices.
" Provided with a stretch cord and 8 types of power connectors, it is easy to wear your new fashion accessory while powering your cellphone, MP3/MP4 player, portable game player, and similar handheld personal electronics. When used as a direct power source, provides up to 3 hours talk time or up to 8 hours MP3 use."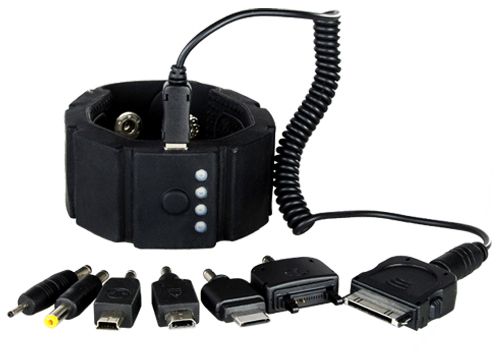 For one it will cost you $24.84 from Chinavasion.

Specifications
Main function: Battery pack for portable electronics

Battery
– Type: Li-ion polymer battery
– Capacity: 1500mAH
– Full Recharge Time: 5 hours (via USB)
– Working Temperatures: -10 C to +50 C

Power Output Port: Mini-USB – additional stretch extension cord allows you to reach electronics without taking off the wrist band

Dimensions: 250mm x 35mm x 15mm (L x W x H)

Manufacturer Ref: E2C05C39476A

Catalog Ref: Portable cell phone power charger, portable PSP and DS battery
Other Features:
Included connectors work with most major brands of cell phones, portable game and media players

Integral LED lights show charge status

Its working temperature range can withstand almost any weather

For best results you should fully recharge the unit before first use
Package Contents:
Model CVFZ-G03 Wrist Strap Battery

Mini-USB to USB cable

x7 portable electronics adapters (major brand mobile phones, PSP, Nintendo DS)



Manufacturer and Origin: China

Login for Wholesale Discount Pric