Panasonic is pleased to announce the introduction of the new, limited edition HDC-TM350 high definition camcorder. A sister model to the multiple award winning HDC-TM300, the TM350 enjoys the well-renowned family heritage whilst also offering further benefits into the mix – including a larger capacity flash memory, new Advanced O.I.S and improved low light performance. The HDC-TM350 will be available exclusively from mid October at Panasonic Stores for a limited period only.
The newest member to Panasonic's award winning high definition camcorder range, the TM350 heads straight to the top, offering unparalleled features and design. Belying its small and compact size, the semi professional TM350 offers a multitude of technical features, including a manual focus ring, Electronic Viewfinder (EVF), Hot Shoe and mic terminal. The 12 x optical zoom model is fully equipped to handle your shooting needs.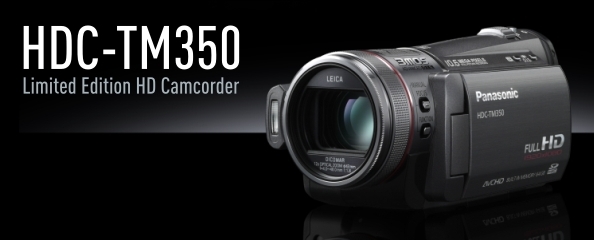 Picture Quality to Boast About
When it comes to making movies, good just isn't good enough. The same is true of our camcorders. That's why our TM350 Full-HD 3MOS camcorder has three separate colour sensors to process red, green and blue.
Put simply, it means you get clearer true-to-life colour. And when you combine this technology with 1.6 lux low light recording, you get a camcorder that is not just fine, but one of the best Full-HD camcorders in its class.
If superb movies weren't enough, the TM350 also records still images with a resolution of up to10.6 megapixels. Additionally, the TM350 allows simultaneous recording of motion images and still images with 8.3 megapixels – so not matter whether the shot requires moving or still images, the TM350 is ready to roll. The model even has a separate iA (Intelligent Auto) O.I.S (Optical Image Stabiliser) functions that are dedicated to still images to ensure beautiful results in still image shooting.
Intelligent Auto Mode – Just Aim and Shoot
The TM350 features Panasonic's highly commended Intelligent Auto mode. When you are not certain which assisting mode will give you the best shooting results, or when a sudden shooting opportunity presents itself and you don't have time to make any settings, simply choose iA (Intelligent Auto) mode and let your Panasonic camcorder do it all for you. With iA mode you get ease of recording spectacular moments, every time.
The new model is also equipped with AF/AE Tracking, which automatically tracks a moving subject for consistently beautiful results. AF/AE Tracking, which was very popular in previous models, differs from normal auto settings in that, once the user touches a selected subject on the touch-screen – the subject can be at the centre of the screen or at an edge – and locks onto the subject, AF/AE Tracking maintains the focus and exposure even if the subject moves or turns to one side. This records the subject with the optimal AF/AE (Auto focus/Auto exposure) settings.
Panasonic's Advanced O.I.S. helps suppress the effects of hand-shake as you shoot, for both motion and still images. The new Active mode also extends the hand-shake correction range to allow shooting while walking or otherwise moving. Its powerful corrective effect reduces the kind of hand-shake that often occurs when shooting on the move, to ensure crisp, clear images.
Strikingly Beautiful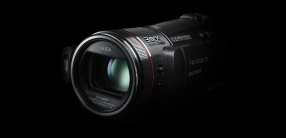 The TM350 flaunts the benefits of its SD card recording format, boasting a compact and slim design due to the diminutive size of the SD card. Overshadowing it's TM300 sibling, the TM350 goes one step further to offer an impressive 64GB built in flash (32GB for the TM300), in addition to the SD card recording – ensuring there'll never be an excuse to miss that important moment.
In keeping with its slim design, the TM350 features a sleek and sophisticated touch-screen that allows icons displayed on the LCD to be easily operated by touching them with a fingertip. The touch-screen lets users operate a variety of functions intuitively without taking their eyes off of the subject on the LCD.
Elegantly finished in stunning gunmetal – the TM350 is the only Panasonic camcorder to sport this stylish colour.
Limited Edition!
With only 200 TM350's available to buy in the UK – there's no reason to wait. Hurry down to your local Panasonic store from mid October. When this limited edition model is gone, it's gone – so don't miss out.
Source: Panasonic