SANYO North America Corporation (SANYO) is pleased to announce the release of a new Full HD, Slim Type Dual Camera Xacti, VPC-CS1, available in February, 2010.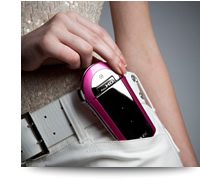 The Dual Camera series aims to provide customers with more enjoyable video experiences, by offering cameras that allow users to easily capture both photos and videos in daily life, rather than devices that are merely used to record important events. By utilizing a convenient video format that can be easily handled on PC and Internet environments, and even on home TVs, these cameras are more than just hardware for capturing, viewing, and saving images. They are convenient products for sharing videos online, on blogs or on other multi-media sites, and they are able to easily import images to portable media devices. The VPC-CS1 is undergoing certification to be compatible with iFrame, a next generation video format that has been designed to allow users to easily import, edit and share high quality video. SANYO is offering new ways to enjoy images after they are captured, and the Dual Cameras have been well received by consumers all over the world.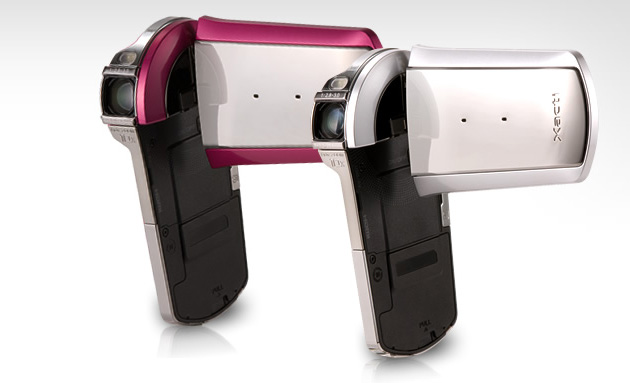 Now, SANYO has introduced a new model with a much greater degree of portability in a compact, lightweight and slim design, in order to expand the use of Full HD cameras. It is a new style of video camera that can record events and occasions as well as capture unforgettable scenes or single frames from daily life in Full HD, just as easily as taking a snapshot.
| | | | |
| --- | --- | --- | --- |
| Product | | | 2010 Dual Camera Xacti |
| Product No. | | | VPC-CS1 |
| Colors | | | Silver (S) |
| MSRP | | | $299.99 |
| Sales Start | | | February, 2010 |
1 For consumer-use Full-HD (1920 x 1080) video cameras with optical zoom lens
Volume: approx. 126 cc; weight: approx. 142 g; thickness: approx. 27 mm; as of the announcement on January 6, 2010
2 SANYO Xacti "Full HD" means data recorded at 1920 (horizontal) x 1080 (vertical) pixels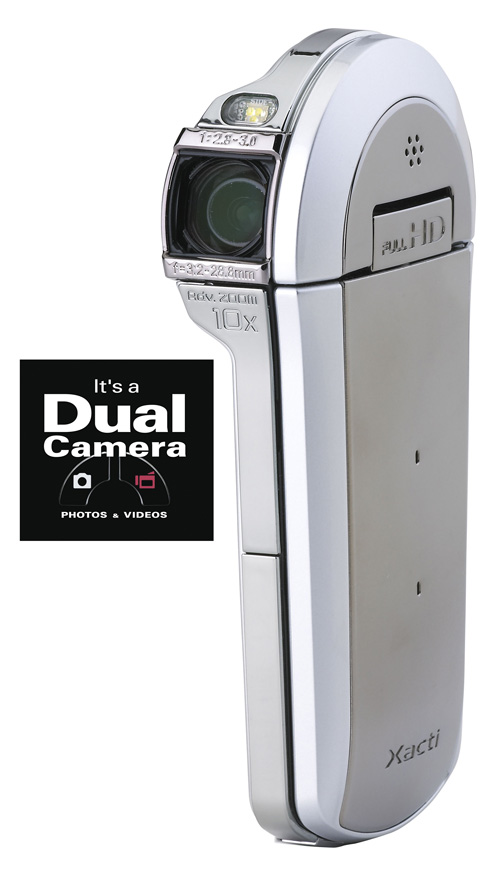 Main Features
1. New style of Dual Camera with the world's smallest, lightest and thinnest super-slim body
– Product development for the series has been carried out with an emphasis on a compact design that can be taken anywhere and anytime, using the concept of a handy device for recording the moments of daily life.
– In order to make the new models even more compact than previous models, SANYO has developed a slim sensor module and a new super slim lens.
– With its compact size (approx. 126 cc in volume), lightweight design approx. 5 oz), and slim body (1.06" in thickness) for superior portability, the VPC-CS1 is a new style of video camera that will radically expand the situations where it can be used.
– The original vertical ergonomic style enables slim body with usability
3 Results from collaborative research on the relationship between thickness of the grip and physical burden with Professor. Katsunuma and Professor. Simomura at Humanomics Section, Department of Design Science, Graduate School of Technology, Chiba University
2. Easily captures beautiful Full HDvideos
– Not only it features a super slim and compact body, but also the VPC-CS1 can capture Full HD videos with a resolution of 1920×1080 pixels.
– The video format used for this model is "MPEG-4 AVC / H.264," which is easy to use on PC and Internet environments, as it is a single file format, similar to the one used for still photos.
"MPEG-4 AVC / H.264" is fully supported by the latest Windows® OS, "Windows 7", which was launched in October 2009.
– Consequently, video files are displayed in the same thumbnail format as still picture files, and they can also be played back directly with Windows Media Player, and editable with Windows Live Movie Maker*5, and are Device Stage compatible. This makes the files even more convenient for use on computers.
To enhance its versatility, the VPC-CS1 is undergoing official certification to support iFrame*6, a next generation video format that has been designed to allow users to easily import, edit and share high quality video. This format enables the camcorder function to record in the same format used for editing on a computer, dramatically speeding up the processes of importing, editing and sharing movies across multiple platforms and devices.
iFrame is a computer-friendly format, and can be used with both Mac and PC compatible applications due to the use of standards-based technologies such as H.264, AAC, and MP4.
When combined with iMovie*6 in this capture mode, it is possible to realize even greater convenience in the procedure of capturing, uploading to a computer, editing, and sharing.
4 Windows is a registered trademark or trademark of Microsoft Corporation in the United States and other countries.
The official name of Windows is the Microsoft Windows Operating System.
5 Downloadable from the Microsoft Corporation website.
6 iMovie is a trademark of Apple Inc., registered in the U.S. and other countries. The iFrame logo and the iFrame symbol are trademarks of Apple Inc. Compatibility pending official certification.
3. "Sound Zoom" function enables clear sound recordings according to the scene
Sound is an important element for increasing the realism of videos. The VPC-CS1 has three microphone modes for recording clear sounds according to the scene and purpose.
Wide Mode: Stereo recording with high channel separation.
(2) Gun Microphone Mode: Recording that focuses on sound emanating from the direction that the camera is pointing, while reducing sounds from other directions.
(3) Zoom Combination Mode: Automatically changes the directivity and sound gathering format according to the zoom positions.
4. Other Features
– Produces high-resolution 8-megapixel*6 images.
– Wide capture range from an advanced 10x zoom to a 38-mm wide angle lens.
– "Digital Image Stabilizer" *7 and "Face Chaser Function" *8 for videos
– "The new Digital Image Stabilizer,"*7 "Face Chaser Function"*8 and "Target a Color Function" *8*9 for photos
– "Sequential Shot" ensures capturing the perfect images.
– "Eye-Fi card compatibility"*10 enables automatic uploading of images to a computer.
– Mini HDMI terminal*11 for viewing high quality and clear images on TVs.
– Compatible with large-capacity recording media, SDXC memory card.
6 Approximately 3-megapixel images received from the image sensor are enhanced and recorded as 8-megapixel images
7 For instances where there is intense shaking or when the shutter is slow, motion correction function may not be able to correct the image.
8 Depending on the photographic subject and shooting conditions, there are instances where the function may not work as expected.
9 Developer by SANYO, with referring to the K-Means tracker technology of Wakayama University, Japan.
10 The Eye-Fi Share card and Eye-Fi Share Video card are sold separately
The maximum file size that can be uploaded from the Eye-Fi Share Video card is 2GB.
The Eye-Fi Uploading Function may not operate in the future due to change in card specifications
Source: Sanyo