Do you often need of an extra power for your devices? The latest eneloop mobile booster from Sanyo may be is your solution. The the KBC-L2 rechargeable battery pack offers instant back-up power for mobile phones, smart phones, portable media players and other USB powered devices.
The KBC-L2 includes 5000mAh Lithium-ion Battery and can offer up to 240 minutes of power. Itis equipped with two USB ports and provides 5V 500mA output power for charging two devices or 1000mA output power for charging one device, this means that it allows two devices to be powered simultaneously. The device can be charged using the bundled AC power adapter for approximately 7 hours or with USB cable from your PC/laptop for 14 hours.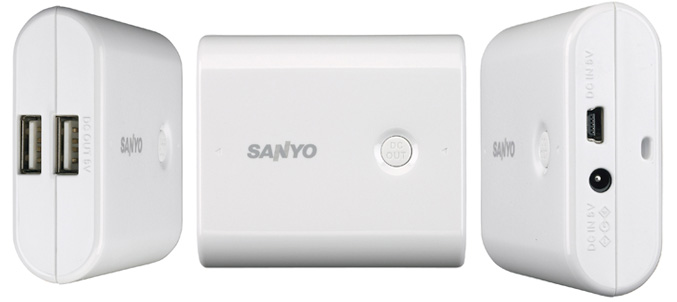 Sanyo says that the eneloop mobile booster is designed to be compatible with wide range of current products, including the iPhone 4, 3GS, 3G, iPhone, iPad, iPod Touch (1st‐4th gen), iPod Classic, iPod nano (1st‐6th gen), iPod mini (1st and 2nd gen), iPod (4th and 5th gen), RIM Blackberry Bold, and RIM Blackberry Curve.
The KBC-L2 eneloop mobile booster is available now for $79.99.
Source: Sanyo