The 14.2 megapixel ST600 and ST100 are the latest additions to Samsung's DualView camera line-up. The two new models comes with 3.5 -inch TFT  main display and a 1.8 -inch front display allowing you properly frame yourself in photos and videos.
The Samsung DualView ST600 and ST100 are equipped with Schneider KREUZNACH lenses which are supported by Optical Image Stabilization (OIS) and Digital Image Stabilization (DIS) for blur-free images. The ST600 haves a 27mm wide-angle focal length with a 5x optical zoom, while the ST100 comes with a 35-175mm equivalent lens and also 5x optical zoom, both have ISO 3200 sensitivity, 720p video recording, touch-screen Smart Gesture User Interface and several easy to use Functions.
DualView ST600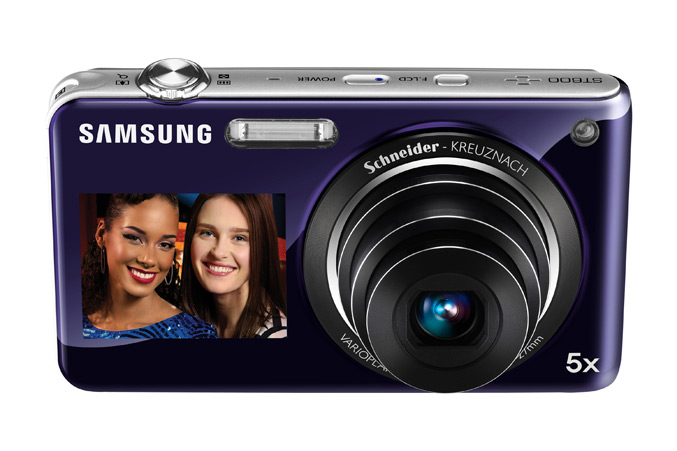 "Today's launch is an important landmark for Samsung as it reinforces our position as a leading innovator in the digital camera market," said SJ Park, President of Samsung Digital Imaging Division. "Unlike any other feature found on digital cameras, consumers immediately recognize the value of what our dual LCD technology can do for them. There is no learning curve or technical understanding that must be achieved as it is a natural extension of what our customers are already doing. Samsung is looking to simplify that task with the new ST600 and ST100, ensuring they have the ability to take the perfect profile shot, and never have to miss that perfect picture moment with family and friends, even if they're not behind the camera."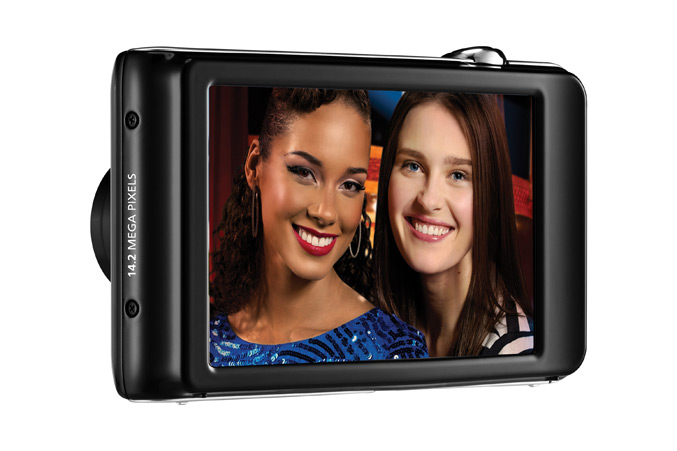 DualView ST100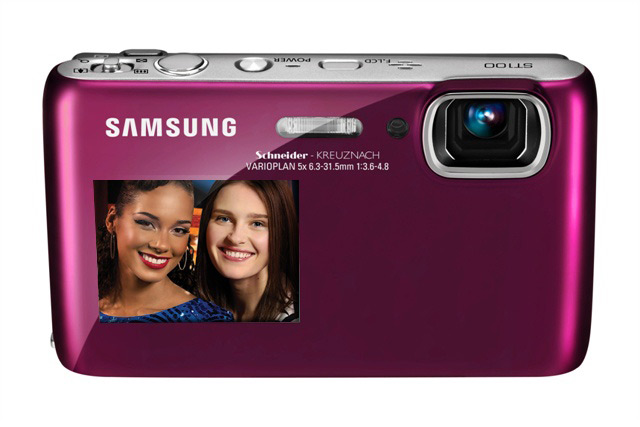 The ST600 and ST100 will be available from September at a retail price of $329.99 and $349.99 respectively.
Specifications:



ST600
ST100
Mega-pixels
14.2 Mega pixels
14.2 Mega pixels
Optical Zoom
5x optical zoom / 27mm wide
5x optical inner zoom / 35mm angle
LCD Size
TFT LCD, Main Display: 3.5″ (8.9cm), Front Display: 1.8″(4.6cm)
TFT LCD, Main Display: 3.5″ (8.9cm), Front Display: 1.8″(4.6cm)
Lens
Schneider f = 4.9 ~ 24.5mm.













27mm wide

Schneider f = 6.3 mm ~ 31.5 mm.













35mm angle

Image Stabilization
Dual IS (Optical Image Stabilization (OIS) + Digital Image Stabilization (DIS))
Dual IS (Optical Image Stabilization (OIS) + Digital Image Stabilization (DIS))
Size
4.07″ X 2.34" X 0.78" (WxHxD)
3.94" X 2.36" X 0.79" (WxHxD)
Shooting (still image)
Smart Auto, Auto, Smart Movie, Movie, Program, Dual IS, Scene
Smart Auto: Portrait, Night Portrait, Backlight Portrait, Macro Portrait, Night, Backlight, Landscape, White, Natural Green, Blue Sky, Sunset, Macro, Macro Text (Smart Guide), Macro Color, Tripod, Action, Fireworks
Smart Auto, Auto, Smart Movie, Movie, Program, Dual IS, Scene
Smart Auto: Portrait, Night Portrait, Backlight Portrait, Macro Portrait, Night, Backlight, Landscape, White, Natural Green, Blue Sky, Sunset, Macro, Macro Text (Smart Guide), Macro Color, Tripod, Action, Fireworks
Editing (still image)

Image Edit: Resize, Rotate, Trimming
Photo Style Selector: Normal, Soft, Vivid, Forest, Retro, Cool, Calm, Classic, Negative, Custom RGB
Smart Filter: Miniature, Vignetting, Fish Eye1, Fish Eye2, DeFog, Sketch Effect
Image Adjust: Face Retouch (Level 1)

Image Edit: Resize, Rotate, Trimming
Photo Style Selector: Normal, Soft, Vivid, Forest, Retro, Cool, Calm, Classic, Negative, Custom RGB
Smart Filter: Miniature, Vignetting, Fish Eye1, Fish Eye2 ,DeFog, Sketch Effect
Image Adjust: Face Retouch (Level 1)
Recording (movie)
With Audio or without Audio / Zoom Mute included on ST600 (Zoom Mute on, off Option) (Max Recording time: 20min)
Size: 1280×720(30/15fps) High Quality, 1280×720(30/15fps) Standard Quality, 640×480(30/15fps), 320×240 (30/15 fps)
With Audio or without Audio













Size: 1280×720(30/15fps) High Quality, 1280×720(30/15fps) Standard Quality, 640×480(30/15fps), 320×240 (30/15 fps)

Effect (movie)
Color Style: Normal, Soft, Vivid, Forest, Retro, Cool, Calm, Classic, Negative, Custom
Color Style: Normal, Soft, Vivid, Forest, Retro, Cool, Calm, Classic, Negative, Custom
Edit (movie)
Pause during recording, Still Image Capture, Time Trimming
Pause during recording, Still Image Capture, Time Trimming
Software
Intelli Studio
Intelli Studio
Features

• Front LCD ON – Tap or Front LCD Hot Key Button
• Front Display (Self Shot, Self Timer, Jump Shot, Function Info, Children mode, Couple shot, Smile Shot. User can change the flash file of children mode by downloading new file from Samsung Website)
• Smart Gesture UI

• Touch Lock Function
• Smart Face Recognition (Register 6 people manually and 14 people automatically / My Star: 6 people who are registered manually )
• One Touch Shooting
• Smart Auto 2.0 (Movie & Still)
• Smart Album (Smart Album Category: Type, Date, Color, Week, Face, Favorite)
• Beauty Shot
• High Definition Movie Recording: 720p Resolution @30fps / H.264 Movie File
• HDMI CEC
• Multi Slide Show
• High Sensitivity ISO3200(Full Size)

• Front LCD ON – Tap or Front LCD Hot Key Button
• Front Display (Self Shot, Self Timer, Jump Shot, Function Info, Children mode, Couple shot, Smile Shot. User can change the flash file of children mode by downloading new file from Samsung Website)
• Smart Gesture UI

• Touch Lock Function
• Smart Face Recognition (Register 6 people manually and 14 people automatically / My Star: 6 people who are registered manually )
• One Touch Shooting
• Smart Auto 2.0 (Movie & Still)
• Smart Album (Smart Album Category: Type, Date, Color, Week, Face, Favorite)
• Beauty Shot
• High Definition Movie Recording: 720p Resolution @30fps / H.264 Movie File
• HDMI CEC
• Multi Slide Show
• High Sensitivity ISO3200(Full Size)

Availability
September
September
Price
$329.99
$349.99