OCZ has officially unveiled a new SSD entry to its product list – the Agility 4 SSD line, which according to the manufacturer ensures that customers will enjoy the perfect balance between speed, performance and reliability.
The Agility 4 SSD line currently has four members with capacities that range from 64 GB to 512 GB built on the Indilinx Everest 2 controller. The junior Agility 4 model with capacity of 64 GB reads and writes at 300 MB/sec and 200 MB/sec respectively, while the more spacious 128 GB model reaches 400 MB/sec of read speed and 300 MB/sec of write speed with the largest 256 GB and 512 GB models sporting 400 MB/sec of write and read speed.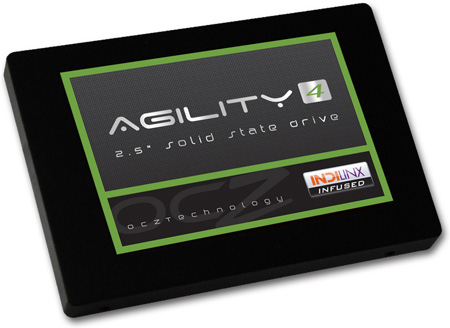 As to the IOPS speed the 64 GB model achieves 47 000 IOPS, the 128 GB model sports 72 000 IOPS while the 256 GB and 512 GB models reach 85 000 IOPS.
Using MLC NAND flash memory the new Agility 4 drives support SATA 3.0, come in 2.5-inch form factor and have up to 1 GB of DRAM memory serving as cache. Also supported are TRIM and Indilinx nDurance 2.0 technologies. The SSD consume 2.5 watts of power while working and 1.3 watts of power when idle.
Pricing is unknown.

Source: OCZ Technology