The waiting is finally over! Blizzard Entertainment has officially announced that the upcoming Diablo III computer game will debut worldwide on May 15, 2012.
The game has been in the making for the past 10 years and was officially announced in 2008 at the Blizzard Worldwide Invitational, held in Paris, France. Highly anticipated, the game later suffered delays and a bunch of probable release dates, none of which was correct.
Diablo III is now available for pre-order at various online game retailers, based in the USA, Canada, Europe, South Korea, Southeast Asia, Australia, New Zealand, Taiwan, Hong Kong and Macao with shipments starting in May right after the game is officially unveiled. Unfortunately, gamers, living in Russia or in Latin America will have to wait until June 7, 2012 for the game to be released on the local markets.
In addition to the official English version Blizzard has also prepared localized versions in Spanish, Portuguese, French, German, Italian, Polish, Russian, Korean and Traditional Chinese.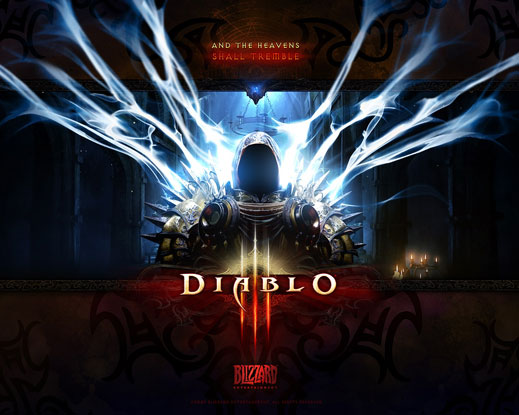 The new game is expected to cost 59.99 USD for the regular version. Diablo fanatics, however, will have a collector's edition prepared exclusively for them. Costing 99.99 USD the collector's edition will feature not only the game but also a Behind-the-scenes Blu-Ray disc/DVD, the Diablo III soundtrack, a 208-page book titled "Art of Diablo III", a 4 GB soulstone that will come with full versions of Diablo II and Diablo II: Lord of Destruction, a Diablo theme skull and finally special in-game content for Diablo III, World of WarCraft and StarCraft II: Wings of Liberty.
As expected the game will feature five characters – barbarian, witch doctor, wizard, monk and demon hunter, that will battle the hordes of Hell one more time.
In order to play the game you will need a PC running at least Windows XP SP3, Windows Vista SP2 or Windows 7 SP1 with DirectX 9.0c installed or newer, an Intel Pentium D 820 processor at 2.80 GHz or AMD Athlon 64 X2 4400+ CPU or better, 1 GB RAM for Windows XP and 1.5 GB RAM for Windows Vista/7, 12 GB of free hard drive space, an NVIDIA GeForce 7800 GT 256 MB or ATI Radeon X1950 Pro 256 MB video card, a DVD-ROM drive and an Internet connection. Your monitor must also be able to support at least 1024×768 pixel resolution. A Mac version will also be released with requirements very similar to these.
So in case you are a Diablo fan and your PC just doesn't meet the requirements now's the time to upgrade!
Source: Lifestyle.bg