The chipmaker ARM has announced a new chip that can change the world around us in more ways than you think possible.
The newly announced ARM Cortex M0+ processor is a tiny product but with possible huge implications. Measuring just 1 mm, the new chip can bring the Internet to a myriad of devices that have been around us for decades. Everything is on the table – from fridges to all kinds of mobile devices and even your body.
"The main advantage is a balance between energy and performance," Thomas Ensergueix, ARM's CPU product manager, says. And truly the magic is hidden in the very low power consumption of the new ARM Cortex M0+. This 32-bit microprocessor consumes about one-third of the energy used by current 8-bit and 16-bit processors while at the same time delivering better performance.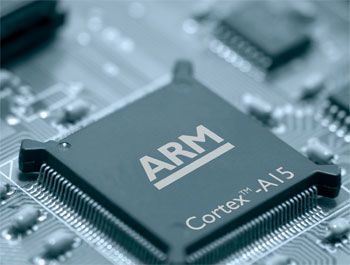 The extremely low power consumption was made possible by lowering the number of transistors, necessary for the chip to work and in eliminating a step required for data to travel. Fewer transistors mean lower manufacturing costs and hence lower price. Among the first Cortex M0+ licensees are companies like Freescale and NXP Semiconductor.
Unlike older small processors, which were running on batteries, requiring change every once in a while, the new ARM chip could control LED light and sensors, smart enough to power themselves down when not needed, opening the prospect of little energy leakage, says Gary Atkinson, ARM's head of embedded segments.
ARM calls the countless new possibilities "an Internet of things". The new chip provides more power in exchange for very little energy consumption and in the future it may allow for the creation of a huge number of networks where all kinds of devices – such as cars, TV sets, fridges, audio players etc. – are connected to the Internet at all times. The new ARM Cortex M0+ chip can also be used in battery-operated body sensors, wirelessly connected to health monitoring equipment, according to ARM. Current microchips lack the intelligence for such tasks, the company says.
In the near future ARM also envisions chips that convert solar light, body movements and ambient temperature into energy. Miniature chips can also provide hope for the blind as they may get integrated in the human eye, get powered by sunlight and convert visual signals into nerve impulses the brain can understand.
The future sounds promising, don't you think?
Source: Technewsworld