Casio America, Inc. proudly unveils the Limited Edition Go Green Project, an environmentally friendly series of G-Shock watch models to commemorate Earth Day's 40th Anniversary. The series is compromised of three new G-Shock styles G5600GR-7, G6900GR-3 and G2300GR-3 with 100% recycled paper packaging, advanced solar technology and Earth Day inspired color ways.
Each incarnation of the Go Green Project features advanced Self-Charging, Tough Solar Power technology – A tiny, solar panel combined with a large-capacity rechargeable battery enables a variety of energy-hungry functions to operate smoothly. The result is an impressive solar timepiece that assures reliable timekeeping and greatly reduces the need for battery change. With its durable construction and unmatched solar power function, the Go Green Project provides an accessory that embraces the philosophy of reduce, re-use recycle.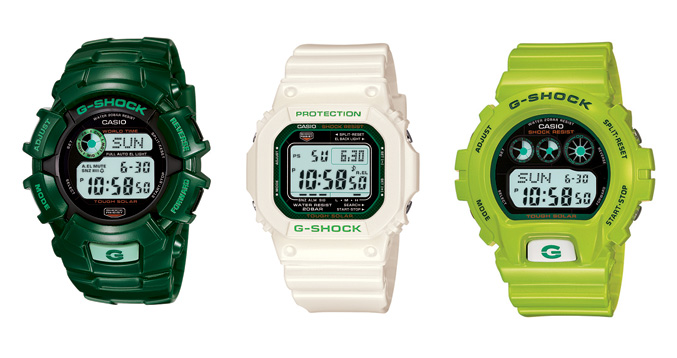 "Casio has adopted a company wide commitment to preserving our global environment through proactive initiatives to minimize CO2 emissions, reduce consumption as well as create innovative environmentally conscious products," said Shigenori Itoh, Vice President of Casio's Timepiece Division. "With the release of the G-Shock Go Green Project, we are thrilled to offer an environmentally conscious product that contains the G-Shock technology."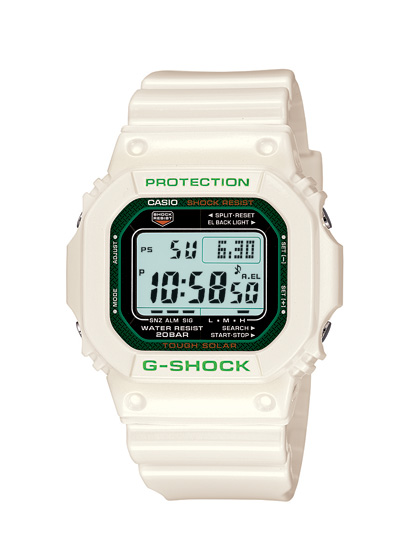 G5600GR-7
Evocative of the very first G-Shock (DW5000C), the G5600GR-7 borrows its handsome square face. Truly building on a classic, the Go Green Project 5600 crisp white body is accented in forest green with a patent finish while maintaining the uncompromised G-Shock features of Shock Resistance, 200M Water Resistance and Full Auto EL green tinted Backlight.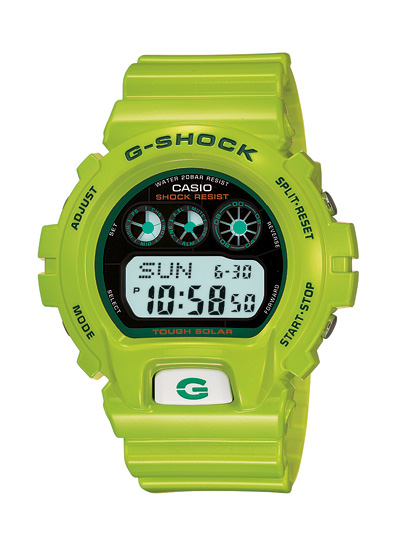 G6900GR-3
Encased in eye-catching chartreuse with forest green contrast details (a new color shade in the G-Shock family) the G6900GR-3 reinvents the classic G-Shock DW6900. Beneath its sleek finish and irreverent color reside G-Shock's superior water and shock resistance, 48 City World Time and 1/100 Sec Chronograph.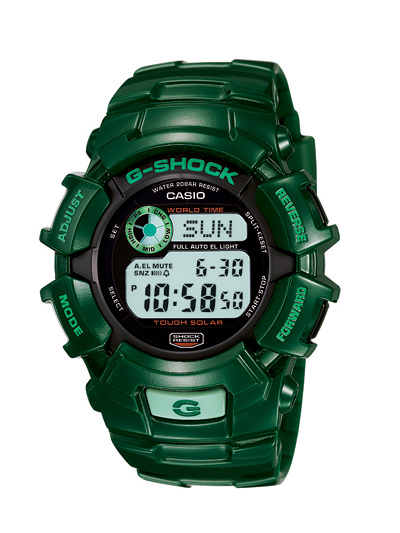 G2300GR-3
An evergreen twist on a classic G-Shock, The G2300GR-3 features unparalleled shock and 200M water resistance, 48 City World Time and Daily alarm with snooze.
The Go Green Project will be available in February 2010 nationwide and online for $110 each. For more information please visit www.gshock.com.
Source: Casio