Garmin International Inc., a unit of Garmin Ltd., the global leader in satellite navigation, today announced the nüvi 3700 series, setting new standards for design, features and ease of use in personal navigation devices. Boasting a new ultra-thin, pocket-friendly design and large-screen, high-resolution glass display with capacitive touch panel, the nüvi 3700 series won the coveted Red Dot Design Award in the world's largest and most renowned design competition.
"Personal navigation is entering a new era, and the nüvi 3700 series has the stunning design and seamlessly intuitive interface to lead the way," said Dan Bartel, Garmin's vice president of worldwide sales. "Our designers and engineers were challenged to rethink an industry icon, and the result is as pristine as it is practical."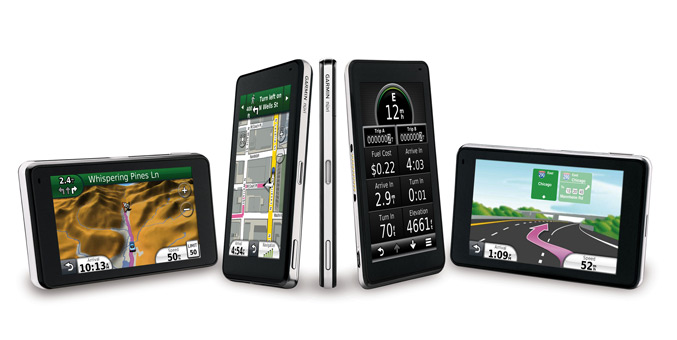 Internationally acclaimed design
At less than 9mm of overall thickness, the nüvi 3700 series is easily the thinnest portable navigator on the market – an irresistible design that begs to be turned on and shown off. The sleek new look made a big impact by winning the product design competition at this year's Red Dot Design Awards in a field of more than 4,000 submissions from 57 countries.
Picture perfect in landscape or portrait
The award-winning design of nüvi 3790T, nüvi 3760T and nüvi 3750 continues with the easy-to-use 4.3" WVGA display with smooth glass capacitive touch panel that lets users see their preloaded maps and intuitive menus in landscape or portrait modes – ideal for use in the car or on foot.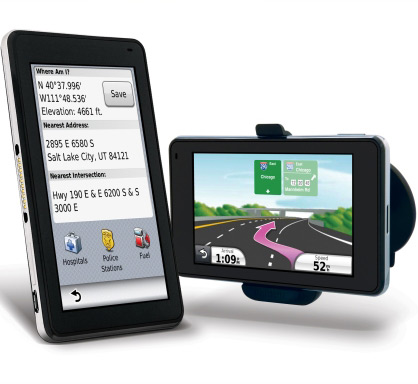 Zoom, pinch, press and drag with Multi-touch
The new capacitive multi-touch display in the nüvi 3700 series allows users to zoom in and out (by double-tapping or "pinching" the map), browse surrounding areas on the map (dragging a finger), or change perspective from 2D to 3D and rotate the map 360 degrees (two-finger drag or twist). And to avoid inadvertent touches, the nüvi 3700 series features a simple screen lock, so you can tap the power button, slide nüvi into your pocket and go.
Garmin's nü flagship: nüvi 3790T
With a customizable "wake-up phrase" to initiate voice-activated navigation, nüvi 3790T lets you tell it what to do and where to go while you keep your hands on the wheel and your eyes on the road.
And the road ahead never looked so realistic, thanks to the unprecedented details of 3D terrain and 3D buildings. Whether you're heading for rolling hills or urban canyons, the shaded topography and realistic landmarks provide unrivaled context and enhanced situational awareness.
nüRoute with trafficTrends™ and myTrends™
Providing efficient routing and realistic arrival times, trafficTrends™ recommends routes using historical traffic data and recurring trends at any given time or day.
Making your commute easier than ever, nüvi 3700 series remembers your frequent destinations and uses myTrends™ to predict your destination without you needing to activate a route, displaying your arrival time and best route based on relevant traffic information.
Smarter routing in your car and on foot
For safer, stress-free travel, nüvi 3790T and nüvi 3760T feature free lifetime traffic alerts and Bluetooth® wireless technology for hands-free calling with a compatible phone.
The entire nüvi 3700 series is preloaded with ecoRoute™ to help drivers with fuel-efficient navigation, helping to conserve both gas and money.
Take the nüvi 3700 series with you and enjoy the new streamlined, pocket-friendly design even more through enhanced pedestrian mode with public transit options through cityXplorer™ content. Available at www.garmin.com, cityXplorer helps you with options to navigate by foot or using a combination of buses, tramway, metro and suburban rail systems.
Innovations abound in nüvi 3700 series
Voice prompts are clearer than ever because of a secondary speaker located on the powered suction cup mount, offering the highest sound quality in the nüvi lineup.
Customizable wallpaper – view, crop and save images right on your nüvi.
Lane assist with junction view helps you navigate with confidence while nüvi directs you to the preferred lane, with realistic images of upcoming complex junctions where available.
Speed limit indicator displays speed limits for most major roads.
Patented auto time zone allows nüvi to automatically adjust your time zone while navigating.
Garmin Connect™ Photos will associate your favorite images with saved locations. Visit http://connect.garmin.com for additional information.
"Where Am I?" feature lets you quickly tap the screen to find the closest hospitals, police stations, gas stations, nearest address, intersection and coordinates.
The nüvi 3700 series is the latest breakthrough from Garmin, which has spent more than 20 years developing technologies and innovations to enhance users' lives, making Garmin a household name in the automotive, aviation, marine, wireless, outdoor and fitness industries.
Source: Garmin