Garmin International Inc., a unit of Garmin Ltd. , the global leader in satellite navigation, today announced new limited-edition color schemes for the aerodynamic Edge 500 and nüvi navigation devices, unveiling argyle designs inspired by the iconic orange and blue patterns of professional cycling's Team Garmin-Transitions. The argyle Edge 500 and a new neutral Edge 500 in black and white will be launched at the Tour of California, included in unique team promotions and also made available at participating local cycling specialty retailers. The argyle nüvi models will be sold exclusively at Tour of California, May 16-23.
"Fashion, function and fun intertwine with these argyle designs, perfect for a lighthearted road trip or a hardcore road race," said Dan Bartel, Garmin's vice president of worldwide sales. "Team Garmin has used Edge technology to win professional races around the world, and these new models help us spread the spirit of the Argyle Armada to even more handlebars and dashboards."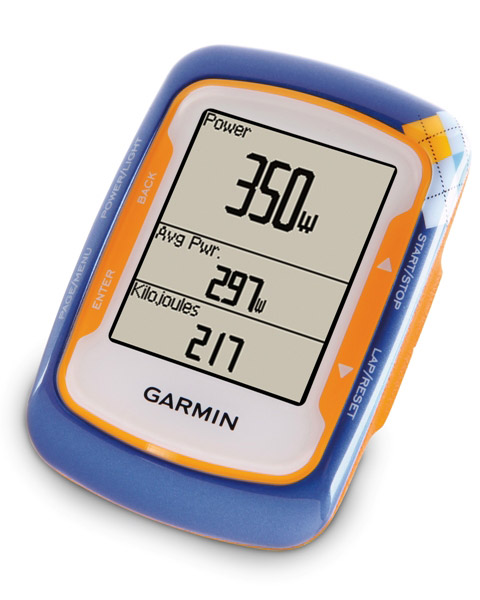 Budget-friendly and weighing a mere 2 ounces, Edge 500 features a high-sensitivity GPS receiver, requires no calibration and can be switched quickly between bicycles. It also connects wirelessly with ANT+™ compatible third-party power meters. Edge 500 tracks speed, distance, time, GPS position, elevation, calories burned, climb and descent. All of this data can be displayed, shared and analyzed on maps and charts at Garmin ConnectSM. For extra-precise climb and descent data, Edge 500 uses a barometric altimeter to pinpoint changes in elevation. And thanks to a recent software update, available as a free download at www.garmin.com, owners of any Edge 500 can now design workouts with multiple steps based on time, distance, calories, power output or heart rate. This feature also allows them to establish workout targets based on speed, calories, cadence, power output and heart rate.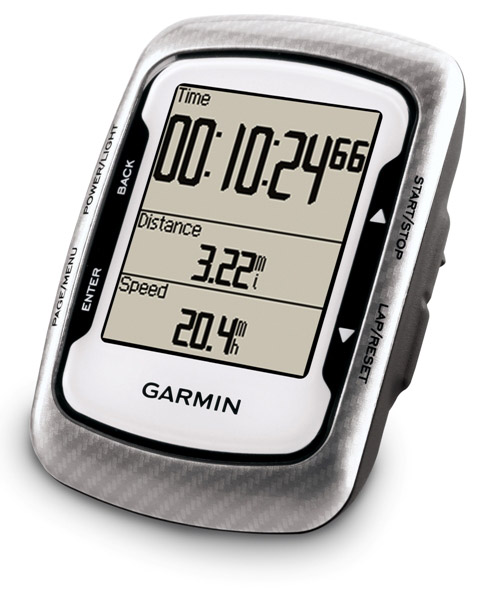 The sleek and slim Edge 500 combines more data than ever into one device. In addition to syncing with compatible power meters, Edge 500 also pairs wirelessly with Garmin speed/cadence sensors and features advanced heart rate-based calorie computation when used with a Garmin heart rate monitor. Edge 500 also displays temperature readings, changes time zones automatically and alerts riders if they're moving but the timer is not running. With up to 18 hours of battery life, Edge 500 features a low-profile, quarter-turn mount that fits easily on the stem or handlebars. The new argyle Edge 500 is packaged with Garmin's premium soft-strap heart rate monitor, speed/cadence sensor, bike mount, AC charger and USB cable. The neutral Edge 500 comes with the bike mount, AC charger and USB cable, and it can be paired with the other optional accessories when purchased separately to best suit each specific cyclist's needs.
Thanks to Garmin's Edge products, recreational cyclists have been able to use the same technology employed on the Pro Tour. Now two new promotions help them get a step closer to feeling like they're in the peloton. Throughout the month of April, Slipstream Sports and Felt Bicycles are giving subscribers to Garmin's fitness email newsletters a chance to buy a team replica Felt F1 – the same model that Team Garmin's pros ride. This bike is built by team mechanics and comes packaged with an argyle Edge 500, full team kit and team casual apparel and is only available while supplies last. Team Garmin fans also can go the extra mile with their argyle at the Tour of California, where this new Edge 500 will be bundled with a replica Team Garmin jersey from Pearl Izumi. For details about these and other exclusive packages and promotions, visit www.garmin.com/teamgarmin and www.slipstreamsports.com.
Also in limited availability at Tour of California, nüvi will get an argyle makeover. Featuring either a 3.5" or 4.3" touchscreen, the argyle nüvi 1200 and argyle nüvi 1300 showcase the familiar intuitive interface, turn-by-turn directions with spoken street names, and the expansive database of more than six million preloaded points of interest, such as restaurants, hotels, gas stations and coffee shops. Travel is made easy through nüvi's ecoRoute fuel-efficient navigation, enhanced pedestrian options and ultra-thin design for unmatched portability.
Cyclists and fans can track Team Garmin's featured rides – or download, analyze and share activities of their own – by participating in Garmin Connect, an online community of more than 20 million activities around the world. Garmin Connect displays metrics such as time, distance, speed, elevation and heart rate. This information is shown through charts, illustrations, reports and a variety of map representations including street, photo, topographic, and elevation maps as well as the popular Google Earth application. Garmin Connect users can search for activities in their area and try the activities for themselves by uploading the data to Garmin devices.
Source: Garmin