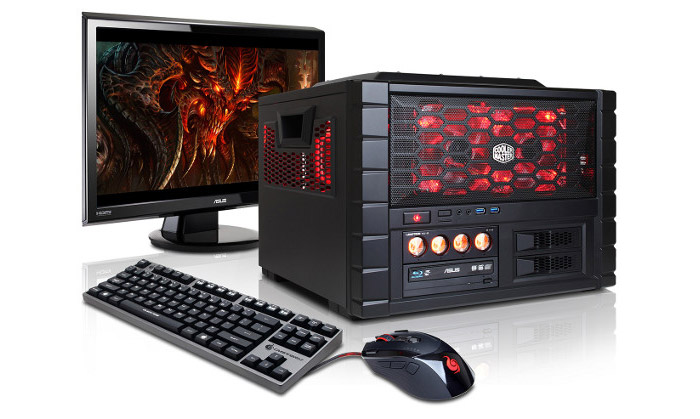 CyberPowerPC has released a new line of gaming PCs known as LAN III. There is a total of four models all housed in box-sized chassis and despite the more than decent hardware all models come at unusually low prices and sport liquid cooling solutions.
The first in the line is the Mini-A model which starts at just USD 439 – and for this much money you get an AMD A4-5300 APU coupled with AMD Radeon HD 7480D graphics. The package also includes 4 GB of DDR3-1600 memory, an ASRock A75 motherboard with USB 3.0 and SATA 3.0 support and a 500 GB hard drive at 7200 rpm. All this hardware resides in a Fractal Design Node 304 Gaming Case.
The Mini-I is the next more powerful model – this one starts at USD 705 and includes an Intel Core i7-3770K processor, 4 GB of DDR3-1600 memory, integrated Intel graphics, an ASRock B75 motherboard and a 500 GB hard drive at 7200 rpm. The Mini-I is held together by a BitFenix Prodigy gaming case.
The LAN III line continues with the LAN III Xtreme model based on a slower Intel Core i5-3570K processor but this one boasts full 8 GB of DDR3 RAM and an NVIDIA GeForce GTX 650 graphics card – all housed in the same BitFenix Prodigy gaming case along with a Gigabyte Z77 motherboard, a 24x DVD-RW drive and a 1 TB hard drive. The LAN III Extreme starts at USD 795.
Finally here comes the king – the LAN III Commander is based on Intel's high-end X79 platform and comes with an Intel Core i7-3820 processor, 8 GB of DDR3-1600 memory, 1 TB hard drive at 7200 rpm and a 128 GB SSD storage combo, an ASRock X79 motherboard, GeForce GTX 670 graphics card and a 24x DVD burner – all stored in a Cooler Master HAF-XB case. The LAN III Commander starts at USD 1395.
Source: CyberPowerPC