Envizions Computer Entertainment Corporation announced that developers, resellers, earlier adopters and potential software partners can now purchase EVO beta units today, and units will be shipped on April 10, 2009. Envizions has 100 beta units in stock. Potential OEM/resellers, distributors and earlier adopters purchase price is $279-$350 per unit. The new retail price for systems will be $379 after April 17, 2009.
EVO Smart Console the First Open Source Convergence Game Platform
Total units in stock are 100 with additional units shipping throughout the fiscal year with several Envizions partners already using EVO beta units.
The EVO beta program will run until June 17, 2009. Beta units will have 3 months of free phone support and 30 day money back guarantee for earlier adopters.
EVO is the first Linux Open Source game console. The system will be able to support both digital distribution of content and games from the Envizions cloud. EVO physical game format will be on compact secure digital cards (SD card). Each EVO Enhanced open source SD game will come with game manual, packaging, support, free expansion levels, and cloud game save storage.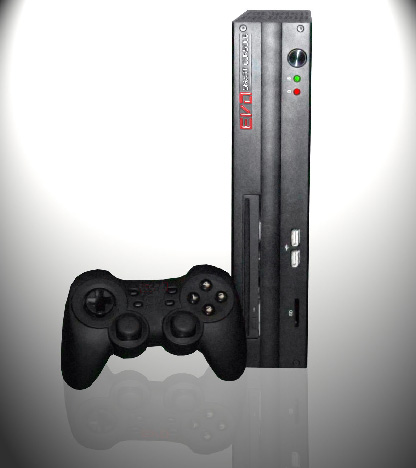 Most EVO SD games will cost $19.95 and third party developers can set their own price for digital distribution games and applications. Games and accessories can be purchased from the EVO Store. Envizions will also develop first party games for the system. Another key benefit that EVO provides is that open source games don't require configuration or installation.
Envizions games have been develop to work with EVO game controller or keyboard/mouse combo. The games are plug_and_play. The EVO system was designed with a small EVO OS called Mirrors that operates in the background and auto load the games for quick boot-up speeds.
The load times are quicker than current consoles and quieter. Most EVO games load in five seconds. EVO is cheaper for development since the system supports a large list of open source development tools, but Envizions also provides paid support if needed. Envizions has selected nine open source games for the release and Envizions will donate to the open source communities who contribute games. The unit will ship with three open source pre-configured games installed on the EVO hardware.
The initial open source code on EVO is free, but users can upgrade to a more robust version called Mirrors Evolution X with enhance features and applications.
The EVO Smart Console will be the first system to merge the PC and console into one device. The EVO game controller and keyboard/mouse combo can utilize the interface at the same time. Users will be able to control either EVO DVD application with game controller, keyboard/mouse or both. Envizions will continue to provide updates and strengthen the code after release. "EVO is only going to get better with new code development from partners, developers and Envizions," states Terrence Johnson Director of Operations of Envizions.
EVO is the convergence of game console, PC, HD DVR, Cloud storage, Internet TV, Internet, Social Network, DVD player, and Phone in one device. "EVO is the convergence of several devices into one unit. EVO is for customers that want more value from their entertainment hardware and reduced space around the TV from other devices that do one function. This is only the beginning and Envizions is confident that we can lead the movement for the next generation of convergence, cloud, and open source possibilities for the next few years," states Derrick Samuels CEO and Founder.
About Envizions Computer Entertainment Corporation:
Envizions Computer Entertainment Corporation was incorporated on August 10, 2004 and founded by Derrick Samuels. With main headquarters located at 801-5 Noble Street, Anniston, Alabama, the company is involved in electronic devices, media, and publishing. The company's most ambitious project is the highly anticipated EVO Smart Console. For more information, visit www.evosmartconsole.com, www.envizionscorp.com, www.pitchbuzz.com.
Click here for video
Source: Marketwire