The Nintendo DSi is the latest way to enjoy gaming on the go! Packed with exciting new features, the Nintendo DSi lets your personality shine through by offering exclusive downloadable software and applications to make your portable personal!
Check out all the exciting details at our Nintendo DSi section where you can watch in-depth videos covering all the new features available, catch up on the latest Nintendo DSi news and take a peek into the minds of the people behind the console in the Iwata Asks section.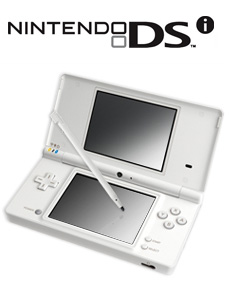 And don't forget that for a limited time after the European launch of Nintendo DSi, connecting to the Nintendo DSi Shop will automatically earn you 1000 Nintendo DSi Points to exchange for new games and applications!
Nintendo DSi – Technical Details
Size:
(when closed)

width: 137.0 mm
length: 74.9 mm
height: 18.9 mm
Weight (inc. stylus and battery):

214 g
Stylus size:

length: approx. 92 mm
Upper Screen:

3.25 inches (diagonal), transparent reflective TFT Colour LCD
Backlit – 4 levels of brightness display
Touch Screen

3.25 inches (diagonal), transparent reflective TFT Colour LCD
Backlit – 4 levels of brightness display
Power and battery info:

Rechargeable lithium ion battery pack
Energy saving sleep mode
AC adapter

Minimum brightness setting: 9-14 Hrs
Low brightness setting: 8-12 Hrs
High brightness setting: 4-6 Hrs
Maximum brightness setting: 3-4 Hrs

(times may vary depending on software)

Inputs:

DS Card Slot
SD Memory Card Slot
AC Adapter
Stereo Headphones/Mic
Source: Nintendo