MadCatz outs new Wireless 360 Racing Wheel

Mad Catz revealed its new Wireless Racing Wheel for the Xbox 360, which connects to the console without a need of a dongle or adapter, tilizing the same secure wireless technology featured in the official wireless Microsoft Xbox 360 controller.
Promise to delivers realism and excitement to Xbox 360 gamers, the new Racing Wheel feature twin accelerator and brake racing pedals on detachable foot rest, 'tiptronic' style gear shift paddles alongside a unique interchangeable gear shift, that can be placed on either the left or right of thewheel. It has perforated rubber grips foer more e comfort, dual-mounting optionis to secure it to a table and is powered by 3 AA batteries (included), that provide up to 40 hours of lag free gaming.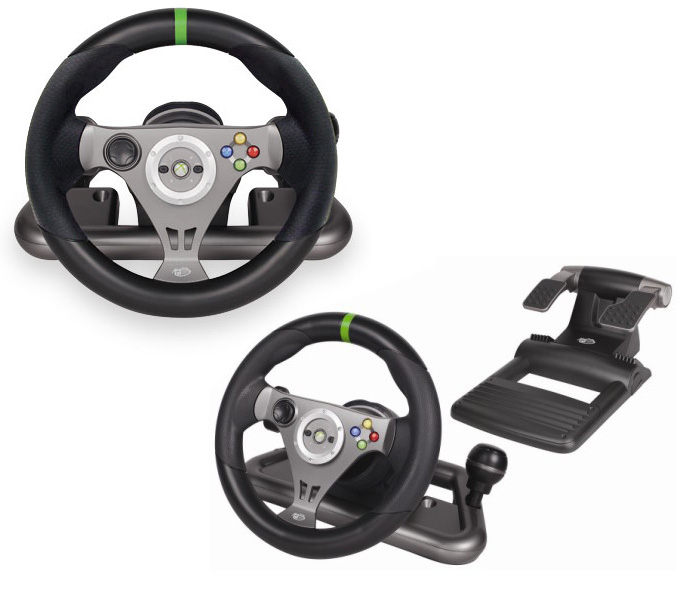 Features:
Powerful wireless connectivity provides lag-free response up to 40ft (12m)
Interchangeable Gear Shift for left- or right-handed drivers
Two mounting options:

Unique clamp mechanism ensures a completely stable response when used with either your desk or racing cockpit
Use the detachable lap mount pads when driving from the comfort of your couch

Full rubber grip points for precise steering in the heat of a race
Non-slip accelerator and brake pedal set with detachable foot rest
Integrated headset port for Xbox LIVE
3 x AA Batteries included
The Mad Catz Xbox 360 Wireless Racing Wheel is shipping now across select European territories, and is expected to begin shipping across North America and further territories shortly with SRP of: $129.99 / £109.99 / €129.99