Microsoft has announced a big news for the Xbox360 owners, a new streaming TV integration for the Xbox 360 console, as well as voice search with Bing and gesture-control of live TV entertainment via Kinect.
These new features will allow you to access live TV channels, on-demand content, stream movies, sports video, music, and more, and all this also accessible via voice and gesture controls to manage your TV experience. Microsoft also is trying to make their console more "social" and has put a lot of effort, so now you be able to share what games you're playing, movies you're watching and music you're listening to directly to your Facebook
Microsoft has signed partnership with over 50 world class TV and entertainment providers which are coming to Xbox LIVE including: HBO GO, Verizon FiOS, Bravo, Comcast,  nd Syfy in the U.S.; BBC TV and radio in the U.K.; Telefónica in Spain; Rogers On Demand in Canada; Televisa in Mexico; ZDF in Germany; and MediaSet in Italy, that will begin rolling out to consoles in more than 20 countries this holiday.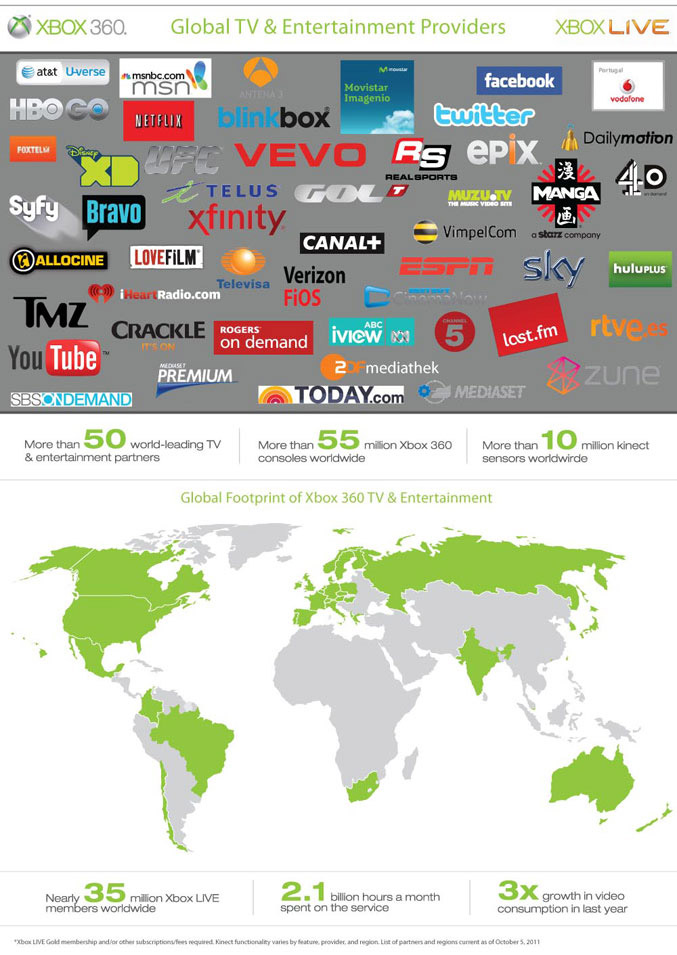 Check the list bellow:
Entertainment Partners on Xbox 360 (Existing and New)
ABC iView – Australia
AlloCiné – France
Antena 3 – Spain
Astral Media's Disney XD – Canada
AT&T – U.S.
BBC – U.K.
blinkbox – U.K.
Bravo – U.S.
BSkyB – U.K.
Canal+ – France
Canal+ (formerly Digi+) – Spain
Channel 4 – U.K.
Channel 5 – U.K.
CinemaNow (Best Buy) – U.S.
Comcast – U.S.
Crackle – Australia, Canada, U.K., U.S.
Dailymotion – Available in 32 markets
EPIX – U.S.
ESPN – U.S.
Facebook – Available in all 35 Xbox LIVE markets
Filmstarts – Germany
FOXTEL – Australia
GolTV – Spain
HBO GO – U.S.
Hulu – Japan
Hulu Plus**– U.S.
iHeartRadio (Clear Channel) – U.S.
Last.fm– U.K., U.S.
LOVEFiLM – Germany, U.K.
Manga Entertainment – U.S.
Maple Leaf Sports & Entertainment/Real Sports – Canada
Mediaset – Italy
MSN with MSNBC.com – Canada, France, Germany, Italy, Japan, Mexico, Spain, U.K.
MUZU.TV – France, Germany, Italy, Spain, U.K.
Netflix– Canada, U.S.
Rogers on Demand – Canada
RTVE – Spain
SBS On Demand – Australia
Screenrush – U.K.
Sensacine – Spain
Syfy – U.S.
Telefonica – Spain
Televisa – Mexico
"The Today Show" – U.S.
TELUS – Canada
TMZ – U.S.
Twitter** – Available in all 35 Xbox LIVE markets
UFC – Canada, U.S.
Verizon – U.S.
VEVO – Canada, U.K., U.S.
VimpelCom – Russia
Vodafone Portugal** – Portugal
YouTube – Available in 22 markets
ZDF – Germany
Zune**– Australia, Austria, Belgium, Canada, Denmark, Finland, France, Germany, Ireland, Italy, Japan, Mexico, New Zealand, the Netherlands, Norway, Spain, Sweden, Switzerland, U.K., U.S.
Source: Microsoft