AMD finally makes its low-power hybrid CPU/GPU in a single die chip official, which is targeted at ultra- thin netbooks and notebooks. The new class  Accelerated Processing Units (APUs) are offered in single-core C Series (Ontario) and the dual-core E Series (Zacate) version, they are made using 40nm process technology and feature x86 CPU core codenamed "Bobcat", UVD3 DirectX11-capable graphics core and parallel processing engine, an integrated DDR3 memory controller,  a dedicated high-definition video acceleration block, and a high-speed bus that speeds data across the differing types of processor cores within the design.
The new integrated solutions promise stutter-free 1080p HD video playback, 2D conversion to 3D, DirectX 11-capable graphics, and "all-day battery life", which according test means up to 10hrs.

The first chips (formerly codenamed "Brazos") intended for AIO, mainstream notebooks and small form factor desktops from the E- and C-Series will include following models:
Low Power APUs
Model
TDP
Core Count
Frequency
E-Series (former codename: "Zacate")
Designed for mainstream notebooks, All-in-Ones, and small form factor desktops
E-350
18 W
2
1.6 GHz
E-240
18 W
1
1.5 GHz
C-Series (former codename: "Ontario")
Designed for HD netbooks and other emerging form factors
C-50
9 W
2
1.0 GHz
C-30
9 W
1
1.2 GHz

AMD also announced thate 32nm die A-Series "Llano" APU,  which includes up to four x86 cores and a DirectX 11-capable discrete-level GPU, intended for performance and mainstream notebooks and  desktops is scheduled to ship in the first half of 2011 and appear in products mid-year.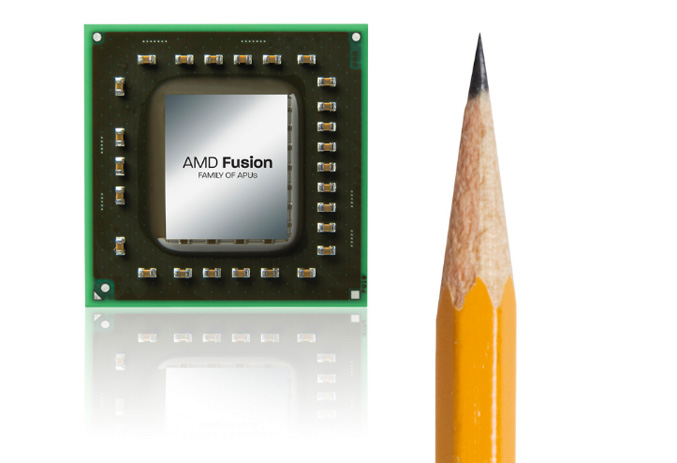 "We believe that AMD Fusion processors are, quite simply, the greatest advancement in processing since the introduction of the x86 architecture more than forty years ago," said Rick Bergman, senior vice president and general manager, AMD Products Group. "In one major step, we enable users to experience HD everywhere as well as personal supercomputing capabilities in notebooks that can deliver all-day battery life. It's a new category, a new approach, and opens up exciting new experiences for consumers."
Leading manufacturers like Acer, Asus, Dell, Fujitsu, HP, Lenovo, MSI, Samsung, Sony and Toshiba plans to deliver new generations of desktop, notebook and HD netbooks based on AMD Fusion APUs.