Black Box Corporation, an industry-leading provider of voice communications, data infrastructure, and product solutions, has introduced its high-definition, high-resolution video and audio over Ethernet (VAoE) media distribution system. This technology provides a very affordable and efficient method of sending live video and audio over Ethernet data and voice networks.
With the Black Box Video and Audio over Ethernet Extender System (part #s AC1140A, AC1140C, and AC1141A), anyone can leverage their existing Ethernet network to display video, digital signage, live TV, or many other video and audio applications.
"This breakthrough technology provides a very cost-effective alternative to today's expensive solutions," said Mario Calabro, Black Box Multimedia Products Manager. "With this system, all you need is a CAT5, CAT5e, or CAT6 network infrastructure and you can transmit Hi-Def video and audio to one or more displays as far as 300 feet away. To go farther, you just add a standard network switch to the system."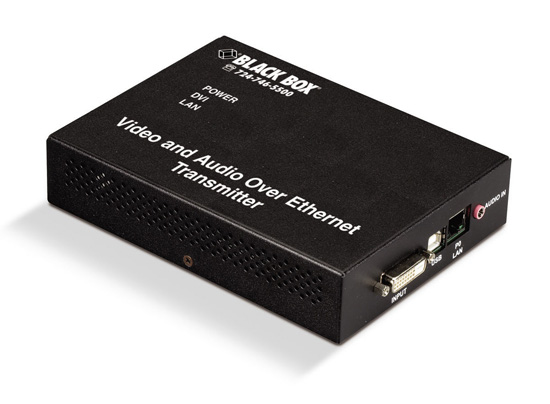 Completely digital from end to end, the system transmits broadcast-quality video without amplifiers or any signal tuning. It works with any brand of single-link DVI or HDTV display and supports 480p, 800 x 600, 1024 x 768, 720p, 1080i, and 1080p resolutions, no matter what the distance or the number of displays. "And because the extender system simulcasts video and audio synchronously, there's no lag from the first display to the last," Calabro added.
The extender system clones a host PC's display using the DVI output from a graphics adapter, or accepts DVI or HDMI input from other sources. It also supports the live video streams from a camera. Altogether, the system provides up to six independent media streams including PowerPoint®, Flash, DVD, or HDMI content over CATx cable.
Though no software is required for the signal conversion, the system includes an application for uploading and scheduling content. "Through this user-friendly interface, you can instantly publish and update content, as well as assign content distribution schedules to the system's transmitter or receiver," Calabro explained. "If necessary, you can also interrupt scheduled content to broadcast an emergency announcement or ad-hoc messaging. It's that versatile."
In addition, the system receiver works as a true Gigabit Ethernet switch, and supports IP cameras, NAS components, and other devices through its three 10-/100-/1000-Mbps ports.
The system also supports a multiple-display setup or a digital signage network with screens in different areas. To distribute video to the screens, administrators simply have to daisychain multiple receiver units via their CATx ports.
The Video and Audio over Ethernet (VAoE) products are part of Black Box's extensive offering of digital signage solutions, including media players, extenders, splitters, converters, and switches. All are backed by free, live, 24/7 Tech Support, which customers can reach by calling 724-746-5500.
For more information, see: http://www.blackbox.com/go/VAoE.
About Black Box
Black Box is the world's largest technical services company dedicated to designing, building and maintaining today's complicated data and voice infrastructure systems. Black Box services 175,000 clients in 141 countries with 191 offices throughout the world. To learn more, visit the Black Box Web site at http://www.blackbox.com.
Black Box® and the Double Diamond logo are registered trademarks of BB Technologies, Inc. Any third-party trademarks appearing in this press release are acknowledged to be the property of their respective owners.