Keyboard Stickers from Funkeyboards

Funkeyboards is a unique set of designed stickers, shaped to fit your keyboard. Funkeyboard covers your entire keyboard with beautiful and astonishing graphics, Allowing you to select the looks of your keyboard thus transforming it to a Fashion accessory.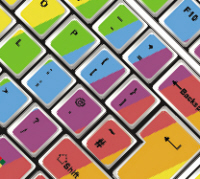 Additional stickers are attached to each set of stickers to suit different Keyboard types.Funkeyboards stickers fits Dell, HP, Gateway, Compac, Apple, and other major brands.

technical specification
Materials:

All materials selected are in accordance with FDA health law

weight / size


74 g / 180 x 360 mm

supported Local Demands:

Font design and location on the keys is made accordingly to local keyboard Market demands.

special features:

CE approved
our production sites are iso 9001 approved
Patent Pending/design
Here you can buy Funkeyboards Designer Keyboard Stickers