M-Edge Accessories announced the release of its much-anticipated second generation e-Luminator2 booklight for Amazon Kindle. A sleek, stylish and versatile addition to M-Edge's library of popular eReader accessories, the slim lighting device boasts a compact design and improved functionality that not only breaks new ground, but also integrates seamlessly with many of M-Edge's existing lines of protective jackets. The result is an appealing, affordable and intuitive lighting solution that allows Kindle users the ability to read in low-light environments.
The leading provider of accessories for eReaders, M-Edge has developed an inspired and innovative product line that combines refined utility with cutting-edge design solutions. With a number of substantial improvements over the popular first generation device, the e-Luminator2 promises to be the latest exciting new addition to that line.
How the e-Luminator2 works
The e-Luminator2 is comprised of a 3 inch long support arm, pivoting battery housing, flexible steel neck, and light housing. The support arm slides behind Kindle, into a specially designed pocket built into the back cover of most M-Edge jackets. The flexible neck can then be positioned at the user's discretion to provide full screen illumination.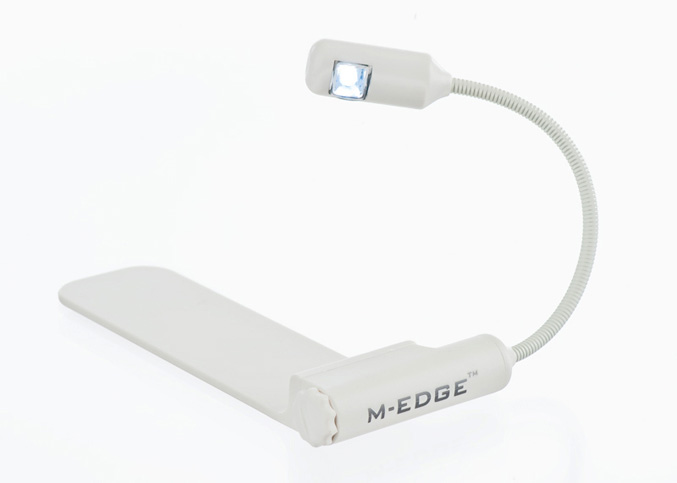 Features
A super-bright LED light allows users to choose between two brightness settings, and an optical quality lens ensures smooth and consistent lighting across the Kindle screen. A convenient rotating neck provides maximum flexibility by allowing users to position the light from either the side or the top of the device. Impressive advancements in battery life – the device requires only one AAA battery for more than 20 hours of use – are a significant and defining distinction that sets the 1.3 ounce e-Luminator2 apart from other bulkier booklights on the market.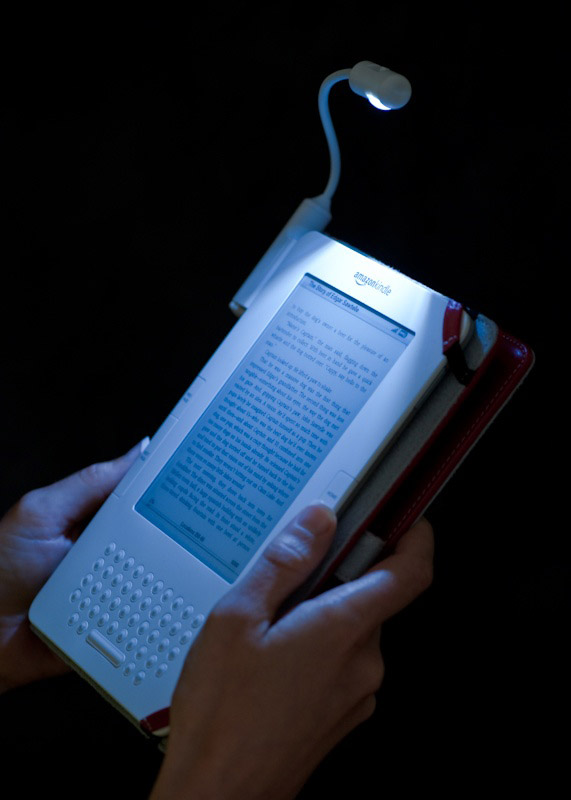 Visually, the e-Luminator2 is designed to complement Amazon Kindle, providing a consistent aesthetic experience for the user. Its slim and compact design allows the light to be safely stowed in the spine or side of many of M-Edge's jackets for convenient storage and easy access. The e-Luminator2 retails for $24.99, but will be available for $19.99 for a limited time.
The 2nd generation e-Luminator's new features and upgrades were created squarely with customers' feedback in mind. "We've worked hard to address the 'wish lists' of our customers during the design and development of our e-Luminator2," explains M-Edge CEO Patrick Mish. "Many of the upgrades we have made are a direct result of the e-mails, phone calls, and productive interaction we've had with our loyal customer base. We are very excited to offer this innovative accessory to Kindlers eager for an elegant on-the-go lighting solution."
The e-Luminator2 is fully compatible with the M-Edge Prodigy, Executive and Platform Jackets for Kindle, as well as M-Edge's library of products in their new Sport line. An e-Luminator2 model with a slightly shorter neck is also available for Kindle 1 owners. M-Edge plans to release an e-Luminator adaptation compatible with Amazon Kindle DX and Sony Reader devices later this year.
The e-Luminator2 will be available for order on July 21st on www.amazon.com and www.buymedge.com. For more information about M-Edge Accessories please visit www.buymedge.com.
M-Edge Accessories has supplied Kindle users with Kindle-compatible accessories since the release of the first-generation device in November 2007. The company has seen its jackets featured in O, The Oprah Magazine and People, among others, and continues to lead the market in eReader-enhancing accessories.
Source: M-Edge