The next in Amzon's new e-reader family is the Kindle Touch model for $99.00 and  +3G model for $149, respectively. It also comes in more compact body that is 11% smaller and is 8% lighter(213 grams), and also has 6-inch screen size with 600 x 800 pixel resolution at 167 ppi and  16-level grayscale, but the display is an advanced E Ink multi-touch variant, paired with IR touch technology.
All navigation and data inputs is done using the new, infrared touchscreen and also the e-reader comes with a new feature called "X-Ray" that will allow you to see all the passages across a book that mention ideas, fictional characters, historical figures, places or topics that interest you. Kindle Touch has 4GB of memory and also includes 3.5 mm stereo audio jack, rear mounted speaker, letting you play your music while reading.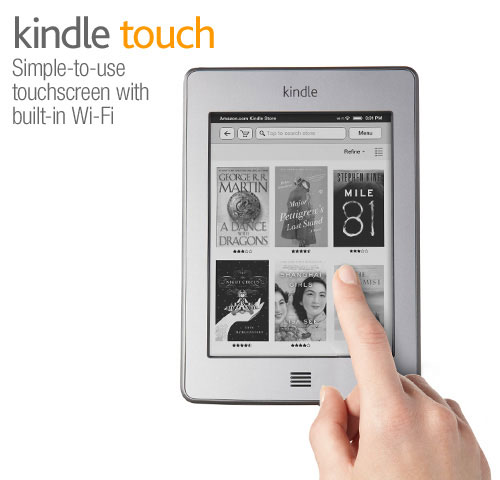 The new Kindle Touch is available in several variants, the WiFi only version for $99, and 3G-enabled called Kindle Touch 3G for $149. If you don't want adverts on the homescreen, WiFi model will cost you $109, while the 3G model is set at $189. The devices are available for pre-orders now and will start shipping on November 21.
Source: Amazon