Along with the new Kindle and Kindle Touch e-readers, Amazon has also revealed its new 'flagship' model called Kindle Fire, which is actually some kind of a stripped-down tablet based on Android mobile OS, that comes at very attractive price tag – $199.
Amazon's Kindle Fire is fitted with 7-inch IPS touchscreen display with 1024 x 600 pixel resolution, fortified with Gorilla Glass and anti-reflective treatment. The tablet is running modified version of Android OS and is powered by a 1GHz TI OMAP dual-core CPU, teamed with 512MB of RAM and 8GB of internal storage. Weighing in at just 413 grams, it has just 11.4 mm thick chassis, where you can find a Wi-Fi module, a micro USB connector, a3.5 mm stereo audio jack and top-mounted stereo speakers, but lacks of a camera, microphone and a 3G connection. Battery life is up to eight hours when reading or 7.5 hours of video playback, with wireless off.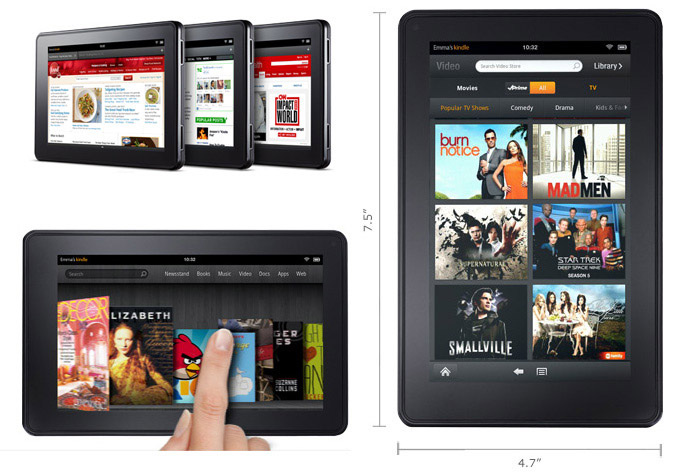 Kindle Fire comes with cloud-accelerated Web Browser called 'Amazon Silk' that promises faster web browsing experience, by using the computing speed and power of the Amazon Web Services Cloud. Just like Kindle e-readers, the Fire one comes automatically pre-registered to your Amazon.com account, giving you access to all of your Amazon content, also uses Whispersync technology, as well as comes with a Free one month trial of Amazon Prime, giving you unlimited, commercial-free, instant streaming of movies and TV shows, and free two day shipping on items from Amazon.com.
The Kindle Fire is priced at $199 and will be released on November 15, 2011.
Source: Amazon