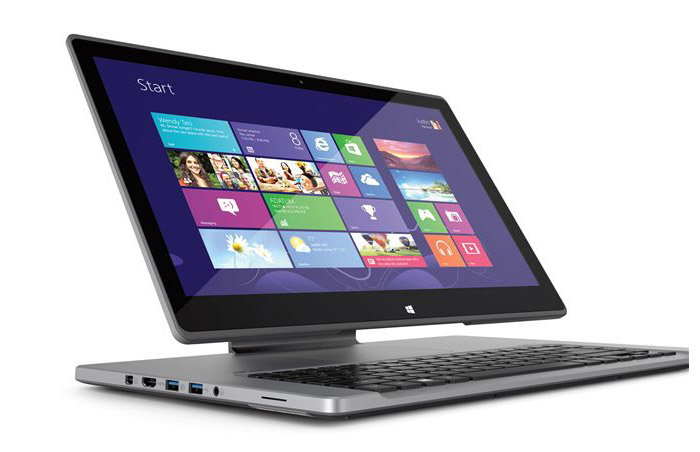 The Taiwanese technology company Acer is expected to release the new Aspire R7 transformable business laptop on May 17 this year, which isn't that far away. Let's see what the company has prepared for its customers around the world!
The Aspire R7 is a very flexible device that can function in three modes – as a tablet, as a desktop computer and in presentation mode when needed. It comes with a 15.6-inch sensor display that works at Full HD resolution (1920 x 1080 pixels) and Intel Ivy Bridge processors – Core i5-3337U (1.8 GHz/2.7 GHz Turbo) or Core i5-3337U chip at 2.0 GHz (3.1 GHz in Turbo mode). The Aspire R7 will also offer Intel Haswell processors when they become available next month.
Inside the Acer Aspire R7 offers GeForce GT 750M graphics, 6 GB of DDR3 memory, a 500 GB hard drive and a 24 GB SSD combo, Wi-Fi, Bluetooth, a card reader, D-Sub and HDMI outputs, two USB 3.0 ports and one USB 2.0 port and finally a battery that can power the device for up to 4.5 hours. In addition the Aspire R7 offers a LED keyboard and four built-in stereo speakers.
Once released the Acer Aspire R7 will run Windows 8 and will sell for around USD 999.
Source: Acer