HP expanded its award-winning portfolio of mobile products with a new TouchSmart notebook and colorful netbooks, including the company's first touch-enabled Mini.
With thin, striking designs, the new models are engineered to provide an unsurpassed customer experience:
The HP TouchSmart tm2 is a powerful, convertible, touch-enabled notebook PC encased in a sophisticated aluminum design with engraved illustration.

The HP Mini 5102, HP's first touch-enabled netbook, is designed for students and mobile professionals alike. It features an all-metal case in black, red or blue and offers a range of features, including face recognition for easy log-on to Windows® operating systems and password-protected websites.

Available in the HP Mini's broadest range of color and design options to date, the HP Mini 210 and 2102 are affordable companion PCs that provide all-day computing, optional high-definition (HD) video playback, and optional global positioning system (GPS) and mobile broadband connectivity.
HP TouchSmart tm2
Building on HP TouchSmart software innovation, the thin, powerful HP TouchSmart tm2 updates the tx2 – the industry's first convertible notebook PC with multitouch technology designed specifically for consumers.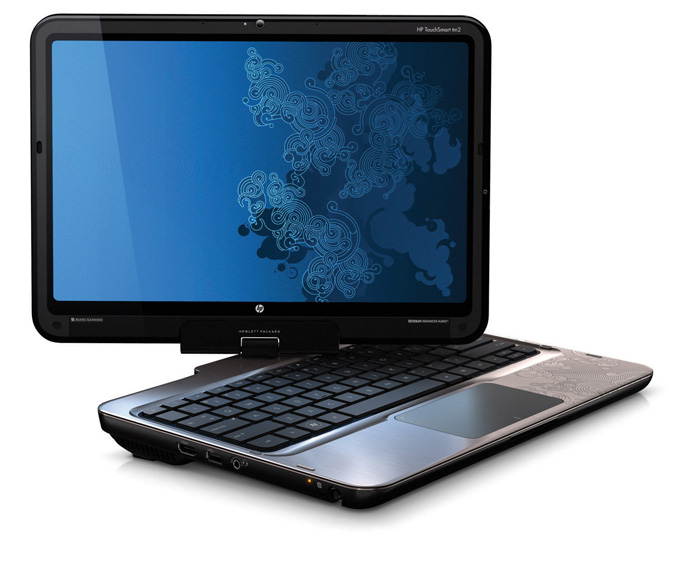 With the convertible tm2, customers can choose the product configuration and input method that is most comfortable and natural, whether on a couch, in an airplane or while surfing the web.(3) As a traditional notebook, the tm2 offers a keyboard and touch-enabled display for input. Converted to a slate, the tm2 morphs into a sketchpad with digital pen, allowing artists to sketch on the go and students to take notes in class.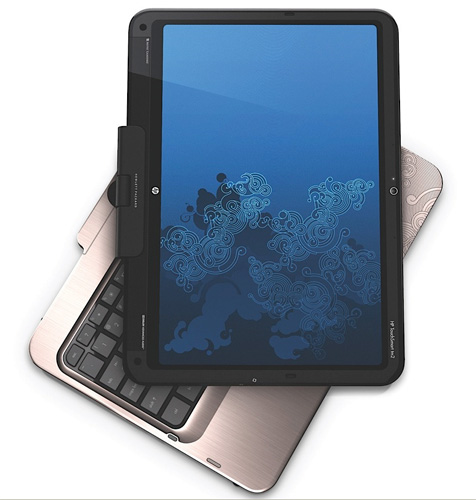 Feather-light capacitive multitouch display technology responds to the softest touch of a finger. The display also supports multitouch gestures such as zoom, scroll and rotate by allowing more than one finger to be accepted as input simultaneously. With the digital pen, handwriting appears on the display as digital ink, similar to writing on paper.
Featuring a sophisticated aluminum design with "Riptide" engraved illustration, the tm2 provides a full notebook experience with the latest low-voltage Intel® Core™ 2 Duo processors and optional high multimedia performance ATI Mobility Radeon™ discrete graphics upgrades. The tm2 also provides up to nine hours of battery life via the standard six-cell battery and includes a fingerprint reader as well as an advanced thermal design that helps keep the PC cool.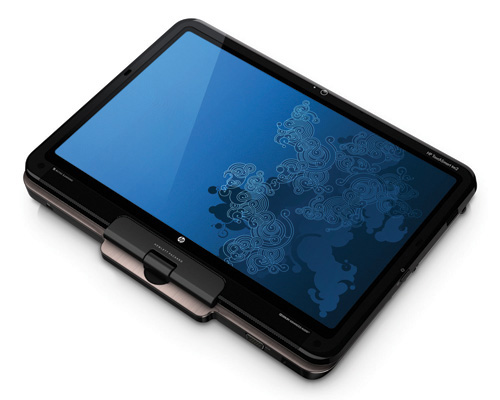 New touch applications enhancing the tm2 experience include:
BumpTop, a touch-enhanced 3-D interface for photos and documents that allows users to spatially organize and "toss" or share files and photos to social media sites or email.

DigiFish Dolphin, an interactive 3-D screensaver that recreates an ocean environment to be experienced via touch or a mouse.

Corel® Paint it! Touch™, which allows users to draw and paint or turn photos into paintings using fingertips.
The tm2 also features many of the same exclusive built-for-touch applications found on the recently introduced tx2 and HP TouchSmart PC, including exclusive touch-enabled games and Corel Painter Sketch Pad application for creating digital art.
The tm2 now offers a touch-enabled Netflix application, which delivers thousands of full-screen movies and TV episodes that are instantly streamed from Netflix over the Internet and can be watched any time at no additional cost by Netflix members with an unlimited subscription. Other recently introduced applications within the TouchSmart software include Hulu Desktop or Internet TV, Twitter and HP Music Store.(5)
As part of HP's commitment to the environment and to reducing all uses of brominated flame retardants (BFRs) and polyvinyl chloride (PVC) in its computing products by 2011, the TouchSmart tm2 is BFR/PVC-free.
HP Mini 5102
Starting at only 2.6 pounds, the HP Mini 5102 is a full-performance netbook designed for mobile professionals and students. Available in either a standard or touch-enabled version, the HP Mini 5102 features a sturdy, lightweight anodized-aluminum display enclosure with a choice of black, red or blue brushed finishes. It also features an optional handle, which makes it easy to carry.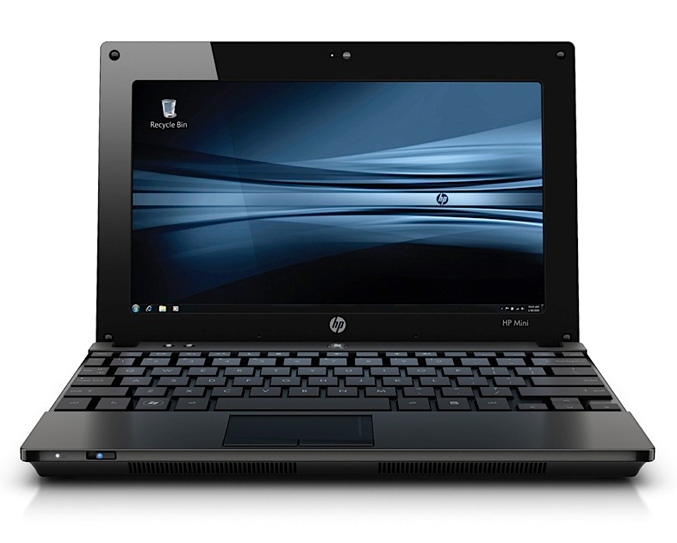 The touchscreen option allows users to get work done more intuitively and quickly based on their choice of input methods. Multitouch gestures, finger taps and swipes across the screen allow users to navigate through applications and menus as well as provide access to information and websites.
The keyboard of the Mini 5102 produces a great typing experience for email, instant messaging and other text-driven applications. The 95 percent of full-size QWERTY keyboard, plus a touchpad, compares favorably to smaller keyboards of competing companion PCs.
Logging on to Windows and other websites is fast and easy with HP Face Recognition for Protect tools. Users simply face the 2-megapixel webcam of the HP Mini 5102 to log in.
The HP Mini 5102 also features the latest Intel Atom™ N450 processor, multiple connectivity options including mobile broadband, and a large 10.1-inch diagonal LED display available in either WSVGA or HD resolutions. When equipped with the optional Broadcom HD video decoder technology, the HP Mini 5102 can play back high-resolution 720- and 1,080-pixel HD video content.
Customers can choose either a four-cell battery for lighter weight or six-cell battery for longer battery life. When configured with the optional six-cell battery, the HP Mini 5102 delivers up to 10 hours of battery runtime.
HP also is offering the HP Mini 5102 in a HP Student Edition, designed to help students learn and to provide IT administrators a reliable, scalable and affordable IT environment. The Student Edition brings leading software to students, including Adobe® Digital School Collection, which provides document management and portfolio creation tools for enhancing learning experiences in language arts, history, music and the sciences. The HP Student Edition also can be configured with an optional handle and is available in black, red or blue for a customized student experience.
HP Student Edition backpacks are designed with students in mind. A durable suspended notebook compartment helps protect the HP Mini or HP Student Edition Notebook from bumps and scratches. Convenient features – such as a thermal compartment for lunches and snacks, a roomy book compartment, quick-access compartments for phones and personal media, and extra padding in the shoulder straps and back – keep students prepared and comfortable.
HP Mini 210 / HP Mini 2102
The HP Mini 210 and HP Mini 2102 are ideal companion PCs for the consumer, business traveller or student, providing freedom and fun with more than nine hours of battery life plus optional 3G broadband connectivity and GPS in a slim and stylish design in multiple color options.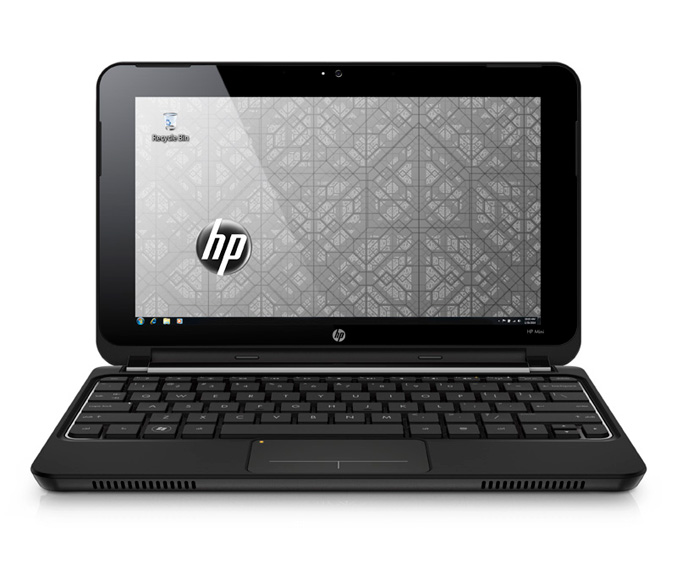 Starting at 2.69 pounds and measuring less than 1-inch thin, the HP Mini 210 is available in a choice of stylish Black Crystal, Silver Crystal, Pacific Blue or Sonoma Red HP Imprint finishes. The HP Mini 2102 offers users a sophisticated black design, which is also available for the Mini 210.
With a 10.1-inch diagonal standard or optional Brightview Infinity HD LED widescreen display and an island-style keyboard that is 92 percent the size of a standard notebook PC keyboard, the new HP Mini 210 and HP Mini 2102 are designed for consumers and business professionals who surf the web, check email, listen to music and need access to people or information while on the go. The PCs also have a built-in WLAN, webcam and microphone.
New software enhances the HP Mini 210 PC's multimedia experience and makes it even easier to access offline content and update files on the go, anytime and anywhere:
HP CloudDrive powered by ZumoDrive allows users to access their synchronized content – documents, photos and music – from the cloud, without having to store it on a local drive.

HP MediaStream allows users to stream multimedia content from one PC to another over the Internet, without requiring data to be downloaded.

HP QuickSync software, also available on the HP Mini 2102, automatically synchronizes files created or edited on the road with a home or business PC over a wireless connection when connected to the same network.

HP QuickWeb allows users to access the web without booting up the notebook by simply pushing a button. In seconds, users have a connection to the Internet and can access websites and other content that normally requires a standard browser, as well as photos, music and more.
In addition to viewing HD content on the Internet, users can experience their own personal multiplex via an optional Broadcom Crystal HD Enhanced Video Accelerator, which allows users to enjoy 1,080-pixel HD content.
The optional GPS software provides a seamless experience for use both inside and out. It includes the HP Navigator mapping application.
The HP Mini 210 and HP Mini 2102 support up to 1 gigabyte (GB) of memory and large hard drive options up to 320 GB, offering plenty of space to store movies, music, applications and files. A convenient, built-in VGA port allows users to connect to an external monitor, while a five-in-one digital media slot allows users to transfer files easily from various memory formats.
Powered by an Intel Atom processor N450 with 1.66 GHz, the HP Mini 210 and 2102 offer configure-to-order options on a number of features.
With the broad HP Mini portfolio, including the previously introduced Mini 110 and Mini 5101, customers have a choice of sleek companion PCs that let them stay connected from virtually anywhere. HP Mini PCs are geared toward information "snacking" and content access, versus the rich content-creation capabilities found in fully functional HP notebook and desktop PCs.
Accessories, pricing and availability
The HP USB Media Dock combines the capabilities of a docking station, port replicator and adjustable notebook stand. It reduces desktop clutter while providing versatile docking and high-quality audio and video features. Priced at $199 for the port replicator, stand and speakers, the Media Dock offers USB connectivity, making it compatible with any notebook.
The new HP Mini W40 Vehicle Power Adapter plugs into the lighter receptacle of any car, truck or RV, enabling users to charge the battery of their HP Mini while on the road. The compact, lightweight portable adapter comes with an 8-foot cable to reach into the back of most cars. With a convenient Velcro strap for easy cable management, the W40 Vehicle Power Adapter is available for $49.95.
The HP TouchSmart tm2 is expected to be available in the United States on Jan. 17 in all colors with a starting price of $949.
The HP Mini 5102 is expected to be available in the United States this month with a starting price of $399.
The HP Mini 210 is expected to be available in the United States tomorrow with a starting price of $299 for Windows 7.
The HP Mini 2102 is expected to be available in the United States tomorrow with a starting price of $329.
Source: HP