The Taiwanese computer hardware maker MSI has announced the commercial availability of its latest multimedia laptops – the CX61 and CR61. The newcomers pack all the latest technologies and should be of interest to anyone looking for great multimedia capabilities.
As expected MSI does not skip anything on the hardware side. Both laptops make use of Intel's latest mobile Ivy Bridge processors and feature Intel Turbo Boost 2.0 technology that dynamically allocates processor workload to one of the CPU cores while throttling the CPU when necessary. CPU speed isn't everything – the CX61 and CR61 also feature MSI's Fast Boot Technology that gets the laptops ready for work in half the time when compared to other laptop computers.
The on-board dedicated GeForce GT 640M provides graphics on the CX61 and CR61. The graphics card sports 2 GB of GDDR3 display memory and is powerful enough for pretty much everything with MSI claiming the GT 640M is 1.82 times more powerful than same-class, previous generation graphics cards, scoring 7,261 points on the 3D Mark Vantage test, making it the most advanced discrete graphics card among performance-class discrete graphics cards. In addition 3D graphics is enhanced thanks to MSI's GPU Boost technology that monitors GPU load and automatically switches over to the discrete graphics card for powerful graphics when needed and when it is performing general word processing tasks or browsing the Internet, it automatically cuts to the power-sipping integrated graphics chip mode, striking the ideal balance between performance and battery life.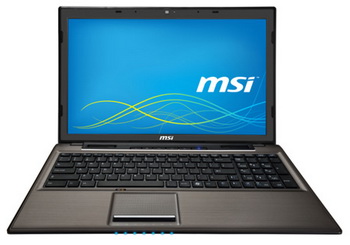 As to storage MSI offers three flavours of hard disk drives – with 500 GB, 640 GB and 720 GB of capacity. In addition users can take advantage of the two on-board DDR3 memory slots and install as much as 8 GB of DDR3 SDRAM for the latest PC applications. Being multimedia laptops the MSI CX61 and CR61 offer the latest in the connectivity options too – USB 3.0 for great transfer speeds, Bluetooth 4.0 for increased connection speeds, as well as USB 2.0 ports, HDMI, D-Sub, an Ethernet port and Wi-Fi 802.11 b/g/n. There's also a 5-in-1 card reader and microphone-in and headphone-out ports. The laptops are also fully ready for Windows 8.
Finally users will get sleek chassis with refined flat metal brush finish – inspired by super cars, as well as on-board cinema-class SRS PC sound for great audio experiences and clear, crisp sound and a battery that using MSI's own ECO engine power saving technology promises to work for as long as 7.5 hours.
Pricing is unknown.

Source: Techpowerup