What do you prefer, 2D or 3D? What if you have both at the same time? Cause Toshiba today unveiled the world's first glasses-free 3D notebook, able to display 3D and 2D content at the same time on one screen. Pretty cool, right?
The Toshiba's creation is called dynabook Qosmio T851/D8CR and will allow you to watch 2D and 3D content in separate windows on the laptop's screen without the need of glasses. This is available thanks to Toshiba's 3D Window technology and the use of the notebooks web cam which track the user's face and recognize the position of the eyes.
As for the Qosmio T851/D8CR specification, It is equipped with 15.6-inch (1920 x 1080) Clear SuperView LED-backlit display, Core i5 2410M processor at 2.3 GHz, GeForce GT 540M graphics card  and SpursEngine dedicated image processor which helps for 2D to 3D real-time conversion of videos. The laptop also has 8GB of RAM, a 750GB hard drive, standard connectivity like Gigabit Ethernet, 802.11 b/g/n WiFi, Bluetooth 3.0, USB 3.0 ports and a HDMI output. The sound presentation is backed by Harman Kardon speakers and there's also BDXL-supporting optical drive if you want to watch your favorite 3D movies.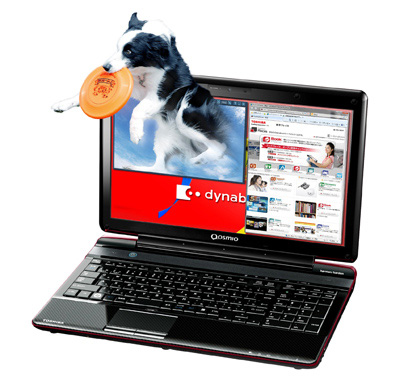 Toshiba dynabook Qosmio T851/D8CR will be available in July, but price hasn't been announced.