The German company Alpenföhn has presented the impressive new Olymp CPU cooler. The main feature of the new company product is that it can cool down chips with TDP of up to 340W.
The Olymp comes with a dual-tower design and includes six 6 mm copper heat pipes that transfer heat from the nickel-plated copper base to the aluminum fins. The cooler is unique with the fact that it has aluminum fins of two stacks that are slanted in opposite directions to each other and this increases the air turbulence and hence there's improved heat dissipation.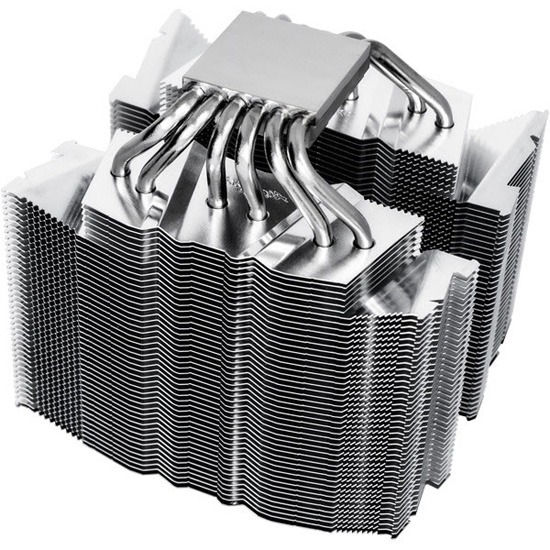 The two stacks of aluminum fins get ventilated by two 140 mm cooling fans that form a push-pull configuration. The fans spin at 300-1400 rpm and push up to 72.4 cubic feet of air per minute (CFM) at noise levels that range between 8 – 26.8 dB. The new cooler measures 165 x 151 x 150 mm and weighs 1200 grams (2.64 pounds). It can cool all modern Intel and AMD processors including chips for the LGA 2011-3, AM3+, FM2+ and LGA 115x sockets.
No word on pricing as of now.
Source: Alpenföhn