US chip giant AMD has unveiled a new professional line of graphics cards. The new AMD FirePro series includes chips built on the AMD Graphics Core Next Architecture and offers unseen power and capabilities that will satisfy even the most demanding professional.
The AMD FirePro W9000 GPU sits on top of the line as it features incredible computing power, increased memory bandwidth and greater multi-display support performance than the competing solution. Following closely are the AMD FirePro W8000, W7000 and W5000 workstation graphics cards, designed to balance compute and 3D workloads efficiently for computer-aided design and engineering, and for media and entertainment (M&E) professionals.
The AMD FirePro W9000, W8000, W7000 and W5000 GPUs are optimised and certified for leading software applications enabling users to unleash their creativity by ensuring ultra-high geometry performance. The latest AMD FirePro workstation graphics cards can enable smooth handling of complex models and feature dynamic power management that enables great performance and efficient power usage. Using AMD Eyefinity technology, the AMD FirePro W9000, W8000, and W7000 GPUs can drive up to six, 30-inch independent displays via Multi-Stream Transport (MST) hubs for maximum workspace utilization at ultra-high 4096 x 2160 resolutions.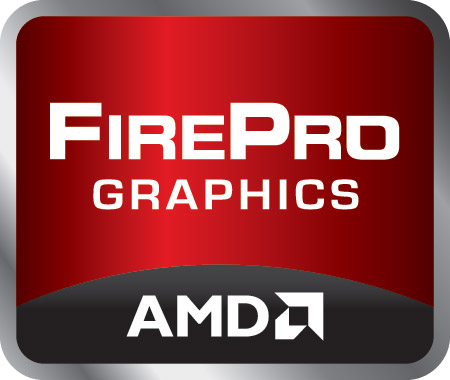 "As professionals work with larger data sets that demand advanced visualization and complex models, they need a graphics solution that is fast, powerful, and reliable," said Matt Skynner, corporate vice president and general manager of AMD Graphics. "Certified for today's software applications, the new AMD FirePro workstation graphics cards bring a range of features and capabilities for professionals working in digital signage, broadcast graphics, CAD/CAE and M&E, delivering the ideal balance of power, performance and reliability at the right price point."
Optimised for leading workstation applications the AMD FirePro W9000, W8000, W7000 and W5000 workstation graphics cards fully support PCI-E 3.0, AMD PowerTune and AMD ZeroCore Power technologies for dynamic power management.
The new AMD professional graphics cards are now available at select AMD resellers and are supported in Supermicro SuperWorkstations. AMD FirePro M6000, M4000 and M2000 mobile workstations graphics cards are also available via AMD resellers and are featured in new systems from HP and Dell.
Source: Guru3D.com