For years every Intel CPU generation has had just a few overclock-friendly models with the rest of the lineup being locked chips that cannot run at frequencies higher than these set at the factory. The problem with the overclockable Intel CPUs is that they cost more money and this makes them too expensive for most people around the world. Things changed just recently when it was discovered that locked Skylake processors could be overclocked on nearly all LGA 1151 boards by simply raising the BCLK frequency.
Unfortunately the free lunch is likely over – some time ago the motherboard maker ASRock cancelled its plans to produce non-Z170 motherboards that could overclock locked non-K Skylake processors because of a lack of support from Intel and now the Taiwanese company has started removing its Sky OC technology even from Intel Z170 motherboards. As you probably know Sky OC is a technology that allows users to run locked non-K processors at frequencies higher than factory ones thanks to BCLK manipulation.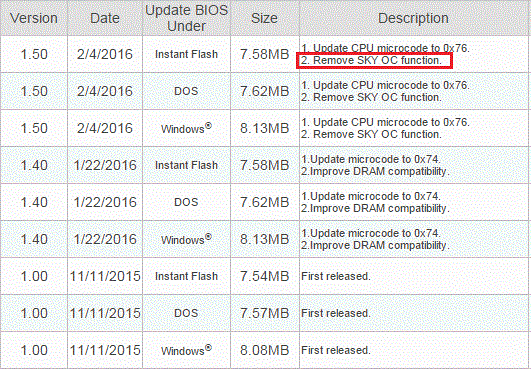 The removal of Sky OC is done in the simplest way possible – with a new BIOS update. Of course you can keep your old BIOS but the thing is that the new BIOS versions with no Sky OC come with new features and bug fixes so chances are one day you will have to update your BIOS and lose Sky OC.
There's no official explanation for this change on behalf of ASRock as of now but it is not hard to guess which company sits behind ASRock's decision to retire Sky OC.
Source: Tomshardware.com