Asus introduces All-in-one PC ET2400 family, featuring 23.6-inch Full HD displays, Super Hybrid Engine technology and SonicMaster audio.
The new family include seven AiO PC, powered by Intel or AMD  processors, integrated or dedicated graphics(ATI Radeon HD4570/5470 or NVIDIA Geforce GTX Fermi), 2GB of RAM, up to 1GB storage option, HDMI-in,  USB 3.0 ports and DVD combo drive. All ASUS All-in-one PC ET2400 models come with a 16:9, 23.6-inch Full HD display(1920 x 1080) and the top of the line ET2400XVT comes with 120Hz 3D display and NVIDIA 3D Vision technology. On select models you can also get a built-in TV tuner, Blu-ray drive and an optional optical touchscreen.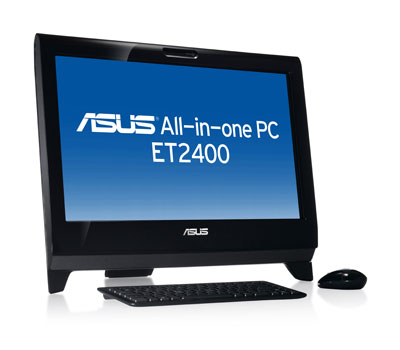 No word on pricing yet.

Specifications:
Model
ET2400E
ET2400I
ET2400A
CPU
Intel®Pentium® dual-core E5500
Intel® Core™ i5 -650 /
Intel® Core™ i3 -540
AMD Athlon II X2 220
Chipset
G41
H55
760G+SB710
Graphics
on board
on board
ATI Radeon HD5470
ATI Radeon HD4570
UMA
Memory
DDR3 800 MHz 2GB
DDR3 1066 MHz 2GB
DDR3 1066 MHz 2GB
Hard Drive
1TB/750G/500G/320G SATA II 7200rpm 3.5″
1TB/750G/500G SATA II 7200rpm 3.5″
1TB/750G/500G/320G SATA II 7200rpm 3.5″
Display
23.6″ 1920 x 1080
Touch Screen
No
Optical Drive
Tray-in
Super Multi DVD
Tray-in
Blue-ray reader / Super Multi DVD
Tray-in
Super Multi DVD
Model
ET2400EGT
ET2400INT
ET2400AGT
ET2400XVT
CPU
Intel®Pentium® dual-core E5500
Intel® Core™ i5 -650
Intel® Core™ i3 -540
AMD Athlon II X2 220
Intel® Core™ i7 -740QM
Chipset
G41
H55
760G+SB710
HM55
Graphics
ATI Radeon HD5470
ATI Radeon HD4570
NVIDIA G310M
ATI Radeon HD5470
ATI Radeon HD4570
UMA
NVIDIA Geforce GTX Fermi
Memory
DDR3 800 MHz 2GB
DDR3 1066 MHz 2GB
DDR3 1066 MHz 2GB
DDR3 1333 MHz 2GB
Hard Drive
1TB/750G/500G/320G SATA II 7200rpm 3.5″
1TB/750G/500G
SATAII 7200rpm 3.5″
1TB/750G/500G/320G SATA II 7200rpm 3.5″
1TB
SATAII7200rpm 3.5″
Display
23.6″ 1920 x 1080
23.6″ 1920 x 1080 (120Hz 3D)
Touch Screen
Yes
Optical Drive
Tray-in
Super Multi DVD
Tray-in
Blue-ray reader / Super Multi DVD
Tray-in
Super Multi DVD
Tray-in
Blue-ray reader