While Intel's Ivy Bridge suffered an unexpected delay, the new Z77 chipset is short of any problems. This fact and the offered Sandy Bridge compatibility has stirred high interest in both consumers and motherboard makers.
ASUS is another manufacturer that will offer a rich line of Z77 motherboards. Right now the Taiwanese company has prepared three new P8Z77-V models, featuring the Z77 chipset that belong to the same product line but also differ significantly.
The first model – P8Z77-V – offers everything that a user would need. Coming with two PCI-E 3.0 x16 slots (working at x8 when both slots are occupied), a single x16 PCI-E working at x4 mode, two x1 PCI-E 2.0 slots and two PCI slots, the ASUS P8Z77-V is ready to meet any expansion needs. For storage the new Z77 mobo offers the standard Intel SATA ports as well as two additional SATA 3.0 ports, a USB 3.0 header and four USB 2.0 headers.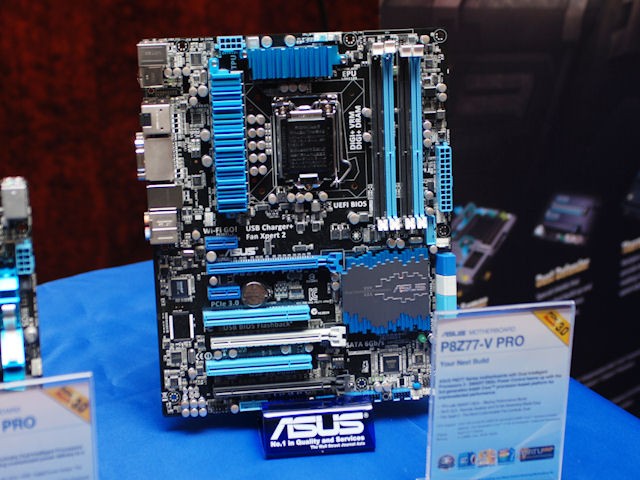 At the back there's the usual PS/2 port, two USB 2.0 ports, four USB 3.0 ports, a LAN port and 7.1-channel audio with S/PDIF and DisplayPort.
And of course there's the LGA 1155 socket too ready to accommodate any Intel Sandy Bridge CPU as well as the upcoming 22 nm Ivy Bridge processors. This pretty much covers the board.
The more advanced ASUS P8Z77-V Pro motherboard offers minor upgrades such as an additional header for a pair of extra USB 3.0 ports and a different VRM design.
Moving up the ladder we reach the most advanced model of the three – the ASUS P8Z77-V Deluxe. As a high-end board the P8Z77-V Deluxe does not offer the obsolete PCI slot – instead the board offers two additional x1 PCI-E slots. There are also two extra SATA 3.0 ports that offer SSD caching and some of the USB 2.0 pin headers are missing – instead we find power and reset buttons and a POST80 debug LED.
In the back there are four USB 2.0 ports, six USB 3.0 ports, two eSATA ports, a pair of Gigabit Ethernet ports – one via an Intel controller and one via a Realtek controller – 7.1-channel audio with optical S/PDIF out, a DisplayPort and HDMI connector and a clear CMOS button.
Pricing or official retail availability is unknown at the moment although some Chinese online retailers already sell ASUS P8Z77-V boards.
Source: Kaldata.com