The arrival of more and more gaming micro-ATX motherboards has allowed the easy creation of small-sized gaming computers that offer all the power of their bigger computing brethren. But what good is a micro-ATX board installed in a much larger ATX chassis? To address exactly this issue Corsair has announced the new Carbide Series 88R micro-ATX gaming chassis.
The new chassis is aimed at gamers who do not want to spend tons of cash on a PC case and includes all-metal parts as well as aluminum-like inserts. The case features a roomy layout that puts the PSU at the bottom, which frees a high-clearance forward area. Thus the Carbide Series 88R supports video cards that are up to 383 mm long, CPU coolers that are up to 150 mm high and PSUs that are up to 160 mm long.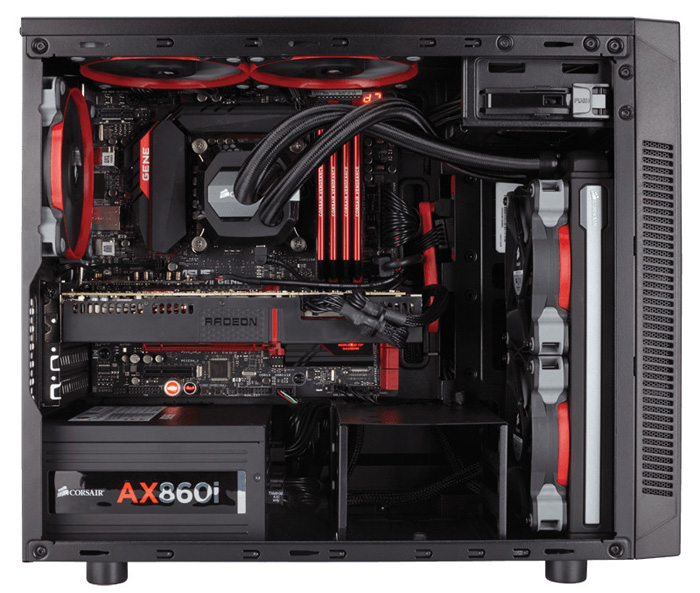 The new Corsair case has one 5.25-inch drive bay, two 3.5-inch trays and two 2.5-inch trays. The case also provides two 120 mm front intakes that can hold on to 240 mm long radiators and two 120 mm top exhausts and there's a 120 mm rear exhaust as well. Up front the Carbide Series 88R offers you one USB 3.0 port, one USB 2.0 port and HDA audio jacks. The case measures 440 mm x 198 mm x 378 mm (L x W x H) and weighs 3.65 kilograms.
Corsair wants USD 49.99 for the Carbide Series 88R PC chassis.
Source: Techpowerup.com