The maker of various cooling solutions CRYORIG has released the highly anticipated A Series of liquid coolers, which were first unveiled during Computex 2015 in June of this year.
The new A Series includes three models – the A40, A40 Ultimate and A80. All three models use Asetek's 5th generation pump and CPU Cold Block technology as well as adjustable and detachable Airflow fans. The A Series coolers share most of the specs – the pumps used measure 88 x 88 x 116.2 mm with a fan installed and 88 x 88 x 52.8 mm with no fan present. The tube length is the same as well – 350 mm – with the tube diameter being 10 mm. You may wonder what the difference between the A40 and A40 Ultimate is – well, the radiator dimension of the A40 is 272 x 120 x 27.5 mm, while the A40 Ultimate radiator measures 272 x 120 x 38.5 mm. The coolers support all modern Intel and AMD processors and use aluminum as the radiator material. An interesting feature is that the A Series uses an additional fan that is strategically angled and placed on top of the CPU block, which solves one of the most problematic issues of AIO liquid cooling products and that is the build-up of stagnant heat around the CPU.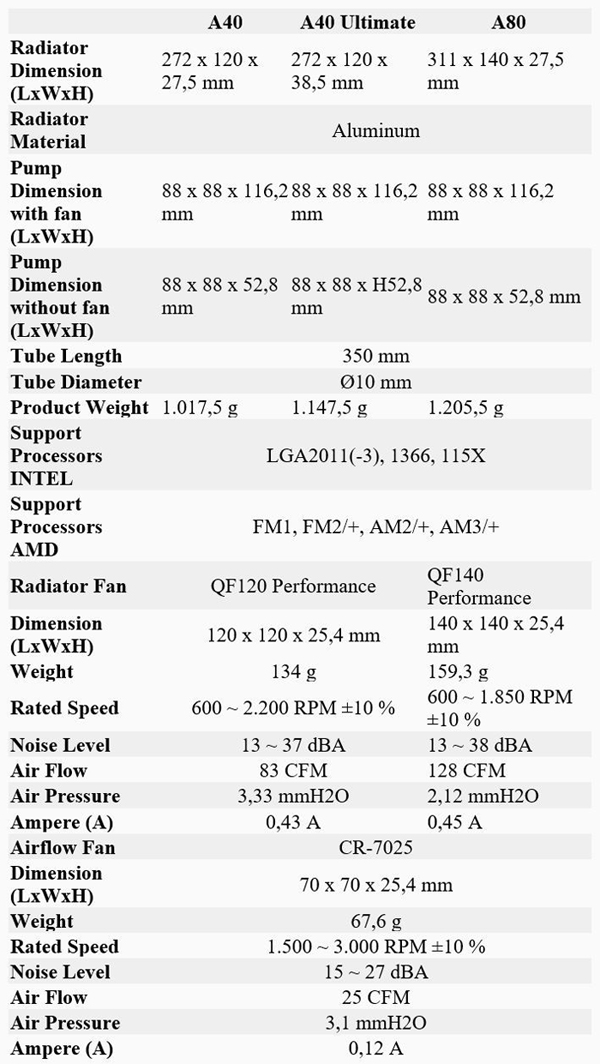 The new CRYORIG A40, A40 Ultimate and A80 liquid coolers will be released in Japan on November 5th with the rest of the world getting the coolers by the end of the current month. The A40, A40 Ultimate and A80 will sell for USD 100, USD 110 and USD 120 (with no VAT) in North America and EUR 99.95, EUR 109.95 and EUR 119.95 (including VAT) in the European Union.
Source: CRYORIG