Saying that Intel will release the 14 nm Broadwell CPU generation next year is nothing new as Intel's roadmap has been known in a long time. While we have discussed Broadwell before, the chip will also power next generation servers and there hasn't been that much information on this topic. Well, thanks to some online sources we can say a few words now.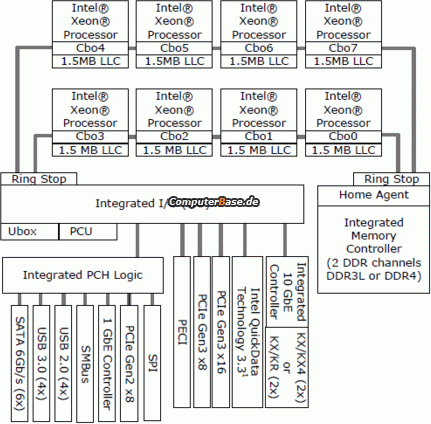 Broadwell for servers will carry the Broadwell-DE designation, while the actual chips with this architecture will be known as Xeon D – a bit like the Pentium D and Celeron D chips of nearly a decade ago. The chips will feature many of Broadwell's revolutionary changes – incredible integration, up to eight computational cores, various integrated controllers for various devices and very low power consumption. Each computational core will have 1.5 MB of L3 cache but this cache will be accessible by every other computational core so the total amount of L3 cache will reach 12 MB. The integrated memory controller will also support up to 128 GB of DDR3L and DDR4 memory in dual-channeled configurations. Support for SATA 3.0, PCI-E 3.0, Gigabit Ethernet, 10 GbE Ethernet and Intel QuickData Technology 3.3 will be provided as well.

Broadwell-DE will be used in various servers and telecommunications equipment and will have between two and eight cores, depending on the model. TDP will range between 20W and 45W. The first eight-core chip with TDP of 45W will be released in Q2 2015, while the remaining Broadwell-DE chips will reach the market in Q3 2015.
(images courtesy of CPU World and Computerbase.de)
Source: CPU World